75th Anniversary of the UN Charter
 Global Solidarity for World Peace and Security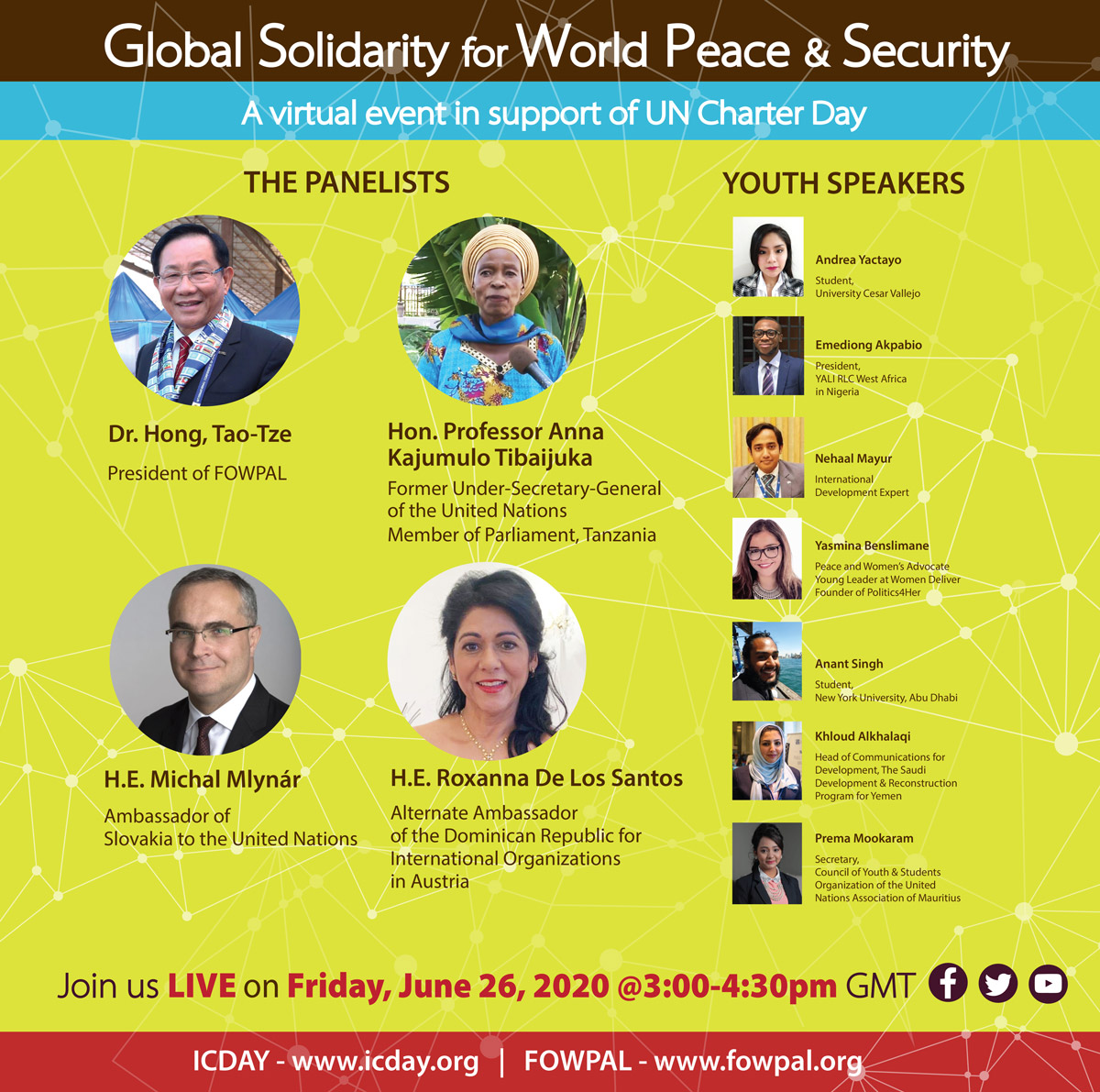 "We have a timeless guide to tackle our shared challenges and fix the world's fragilities. The guide is the United Nations Charter," said UN Secretary-General António Guterres in observance of the 75th anniversary of the signing of the UN Charter, the founding document of this international organization. To celebrate this historic milestone, the Federation of World Peace and Love (FOWPAL) hosted a virtual forum on June 26, 2020, where FOWPAL's president, a former UN under-secretary-general, UN ambassadors, and youth leaders shared their thoughts about and contributions to the Charter. Many global citizens also shared their messages in support of the event. The online forum, which was filled with positive energy, received nearly 12,500 views.
Dr. Hong, Tao-Tze, President of FOWPAL, delivered welcome remarks, highlighting the importance of conscience in achieving the objectives of the Charter: "Every country needs to remember the purpose of the Charter and realize its mission and vision, uphold justice, obey international law, take effective action, and pursue harmony and inclusion. To stay safe, each nation needs to take conscience-driven actions, respect one another, find common ground, build mutual trust for mutual benefits, and enhance equality and cooperation."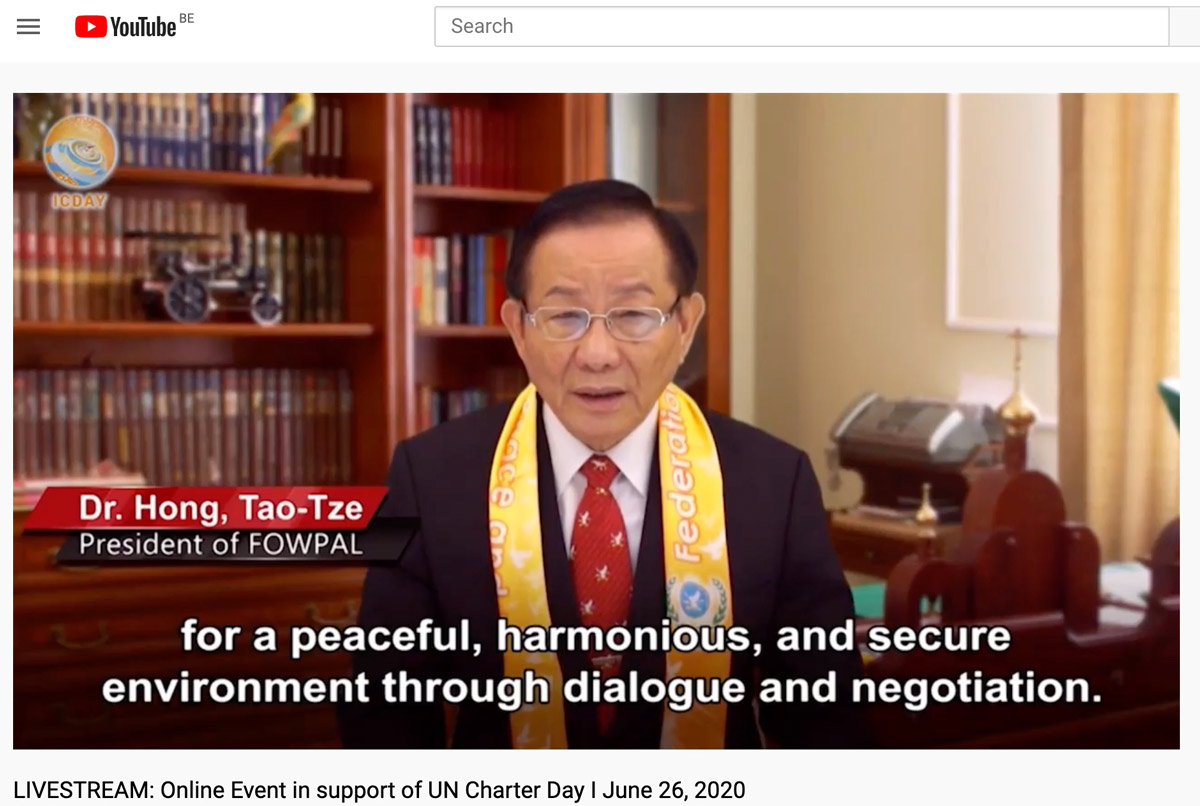 He added that "Now it is time for global citizens to take collective actions for peace, and the awakening of conscience in every individual is even more crucial. Conscience will guide us onto the right path." He also expressed his hope that people will "soon return to a peaceful world where there is no pain, no fear, no war, and no suffering."  
Hon. Prof. Anna Kajumulo Tibaijuka, retired UN Under-Secretary-General, former Executive Director of UN-HABITAT, and Member of Parliament for Muleba South, Tanzania, stated that "The UN Charter is basically the constitution of the United Nations, the aspiration of humanity, after suffering the terrible effects of the Second World War." She emphasized the importance of enhancing human settlements and the living environment, integrating the youth, and empowering the youth through education. Being born in a Tanzanian countryside and later getting elected as UN under-secretary-general, she shared her own success story and encouraged the youth to work hard and coexist peacefully with others. 
H.E. Ms. Roxanna De los Santos de Piantini, Alternate Ambassador of the Dominican Republic to the UN (Vienna), called upon "all citizens of the different nations around the world to be unified in conscience in order to achieve the objectives that started the celebration of this day." She also called on all nations to "remember the need to promote peace, dignity, equality, sustainable care of our ecosystem not only for our enjoyment but also for that of our future generations in search of a world free from wars and ruled by peace, love and harmony."
 
H.E. Mr. Michal Mlynár, Ambassador of Slovakia to the UN, stated that "the quintessence of the UN Charter indeed is peace." Czechoslovakia, which split into the Czech Republic and Slovakia in 1993, was among the founding members of the UN in 1945, and its first UN Ambassador Jan Papanek was among the 14 experts that drafted the UN Charter. Ambassador Mlynár stated that "I hope that we can together continue also his legacy of ensuring that there is peace and that we can save future generations from the scourge of war, and each and every one of us can do something, on the local level, the regional level or on the global level." 
In addition to the distinguished panelists, seven youth leaders also shared their volunteer experiences in making the world a better place. Yasmina Benslimane, who is from Morocco and serves as the Peace and Women's advocate, young leader at Women Deliver, and founder of Politics4Her, reminded everyone to focus on the positive side of things and shared that "The power that we have as an individual is limitless . . . sometimes just a smile, a compliment, a nice deep conversation, making people feel comfortable and good in themselves, feeling loved, appreciated for what they do." 
Andrea Yactayo, a student at University Cesar Vallejo in Peru, expressed her joy of helping others make better decisions in their lives. Anant Singh, a student at New York University Abu Dhabi, shared his experience of helping people ease the pain of separation. Emediong Akpabio, the president of YALI RLC West Africa in Nigeria, shared his experience in peace-building, which he started to focus on since his college years. Prema Mookaram, the secretary of Council of Youth and Students Organ of the United Nations Association of Mauritius, shared that she felt touched when witnessing people working closely together like a family to overcome the COVID-19 pandemic during her volunteer work. 
Nehaal Mayur, an international development expert from India, shared his experience of working with children in refugee camps. Khloud Alkhalaqi, the founder and head of Communications for Development, the Saudi Development and Reconstruction Program for Yemen, and co-founder of the Leave No One Behind Initiative, shared how she applied the positive values she learned from her father to help others on a daily basis. 
 At the end of the program, FOWPAL once again reminded everyone the importance of obeying one's conscience through an uplifting song titled "Conscience Pulls Us Through." During the broadcasting, there was an outpouring of positive messages in appreciation of the event. Hon. Prof. Anna Kajumulo Tibaijuka, retired UN Under-Secretary-General, stated, "Dr. Hong, thank you for the enlightening opening remarks. FOWPAL has kept the conscience agenda alive." H.E. Ms. Roxanna De los Santos de Piantini, Alternate Ambassador of the Dominican Republic to the UN (Vienna), stated, "Beautiful programme!" Felicia Falls stated, "This program is so inspiring!! I love it." If you missed the live broadcasting, here is the link to the event video: https://www.youtube.com/watch?v=TWFUN44c5PA