Conscience Promoted in Conference of Chief Justices
5 Heads of States Ringing Bell of Peace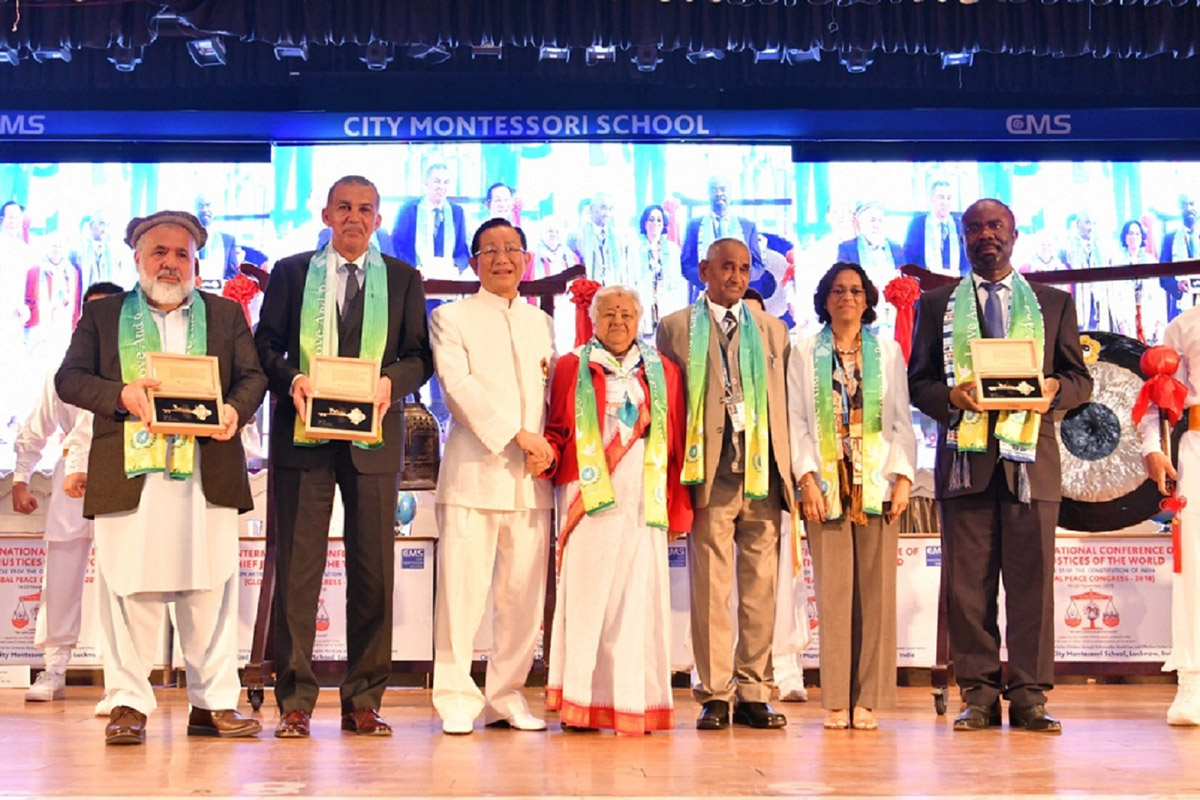 The 19th International Conference of Chief Justices of the World commenced in Lucknow, India, on November 14th, 2018 with the hope to forge a global partnership and solidarity. This year's conference is one of the biggest ones in the recent years, attracting representatives from 71 countries. The is the 9th time that the Federation of World Peace and Love (FOWPAL) has participated in the conference. FOWPAL hosted the ceremony of ringing the Bell of Love and Peace on November 17th  and 18th, hoping to bring stability, comfort, and peace to the world. The host for the ceremony, Dr. Hong, Tao-Tze, President of FOWPAL, invited the former president of the Republic of Mauritius, former president of the Republic of Trinidad and Tobago, princess of Thailand, minister of justice of Islamic Republic of Afghanistan, and the justice of International Criminal Court in Netherlands to ring the Bell and make a wish of peace. The ceremony consolidated world leaders' common consensus for peace. A culture of conscience is anticipated to form and spread.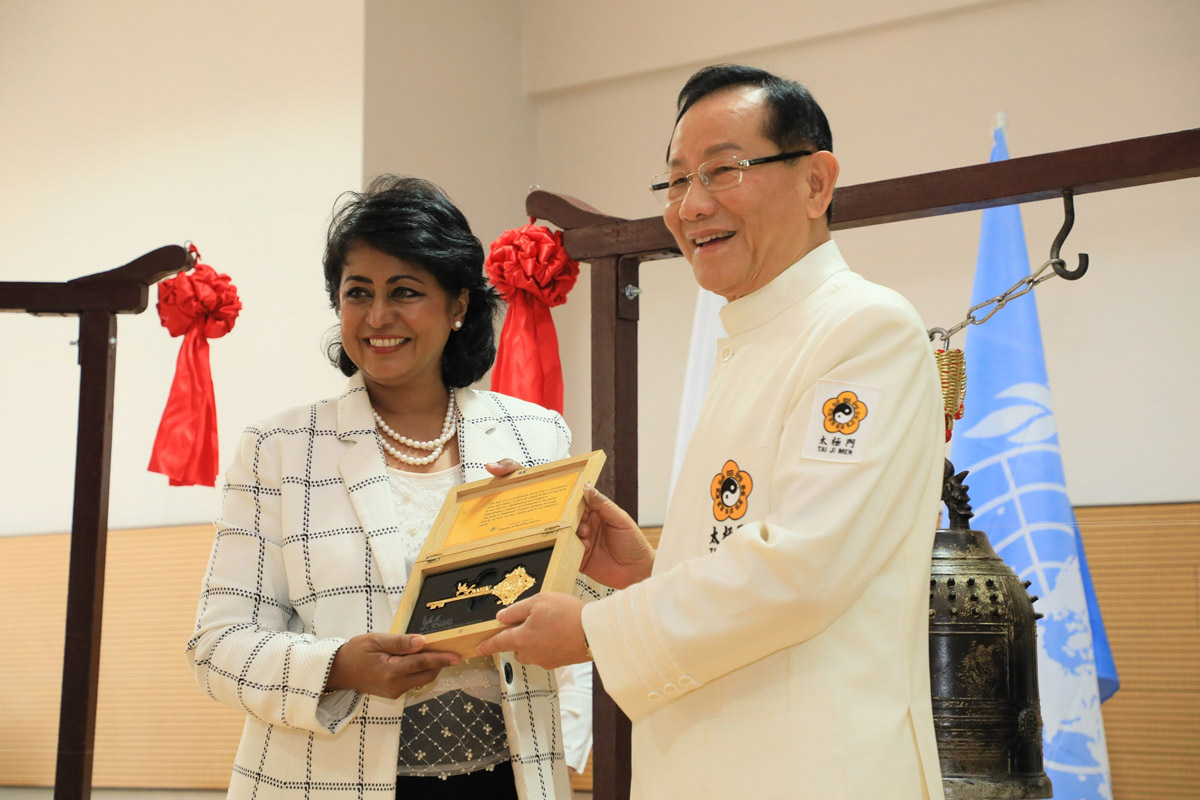 President of FOWPAL, Dr. Hong, Tao-Tze stated in his opening remark, "Conscience is an important compass inside our hearts." "Only when our inherent conscience is awakened and people, from heads of state to common civilians, all follow their conscience in different capacities, will we resolve the endless global problems and save the Earth from deteriorating furthermore." He also emphasized: "When all people listen to their conscience, a culture of conscience will take shape. Growing up in such a culture, people will collectively create a positive learning environment. Our children, educated in such an environment, will pass on the good culture from generation to generation. Consequently, kindness and goodness will prevail forever in this world, benefiting countless generations to come."
Former president of the Republic of Mauritius, Ms. Ameenah Gurib-Fakim rang the bell and wished, "Be the change you want to see in the world--M. Gandhi. Let us all become agents of change towards the betterment of the world and bring peace and prosperity to one and all." She encouraged us to strive for eliminating the growing inequality in the world. As it was nicely put by Mr. Mahatma Gandhi, "Earth provides enough to satisfy every man's needs, but not every man's greed." We live in a world of diversity; we have to thank each other for the differences between us.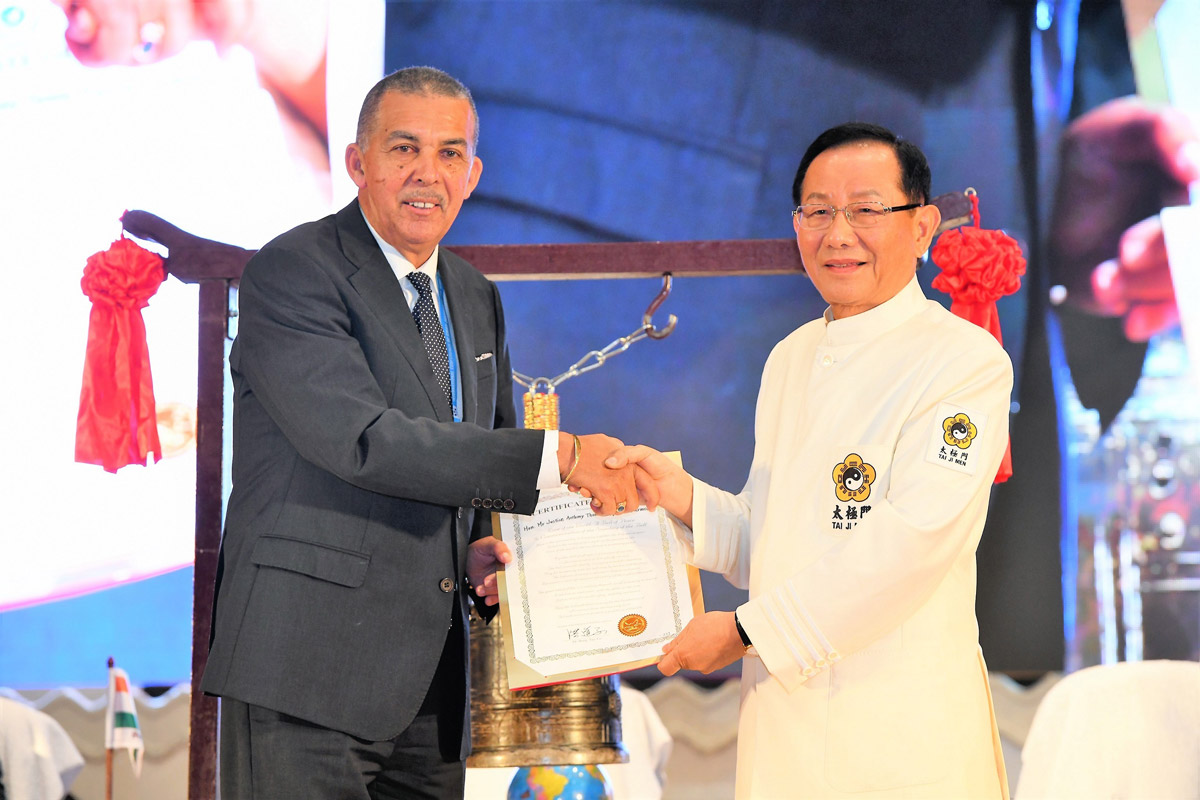 Former president of the Republic of Trinidad and Tobago, Mr. Justice Anthony Thomas Aquinas Carmona said the sound of the bell will reverberate in the mind of everybody and remind all the people of the importance of peace, which lies in harmony, order and the happiness of the individual and the group. He wished that "Peace will descend on this Earth when leaders lead by good example, when honest service leadership trumps power leadership and when compassion, mercy, forgiveness and love are embraced by those who are found in the corridors of power." He also wished everybody could strive for peace and create a world with no wars so children can grow up happily and no one left behind.
The Princess of Thailand, Dr. Mom Luang Rajadarasri Jayankura, wished, "From this moment, my wish for everyone to live in peace, happiness, good health and abundance in everyone's life. One world, one love." She believes there will be peace if everybody in the world loves each other. Therefore, we need to give more love.
Minister of Justice of Islamic Republic of Afghanistan, Dr. Abdul Baseer Anwar, wrote down his wish in Persian and rang the Bell of Peace. He wished, "I invite all mankind for peace and security so that we live a life of mutual respect alongside each other where there is no preference and distinction and the public rights are observed without a sense of superiority, for peace and tranquility on the planet earth."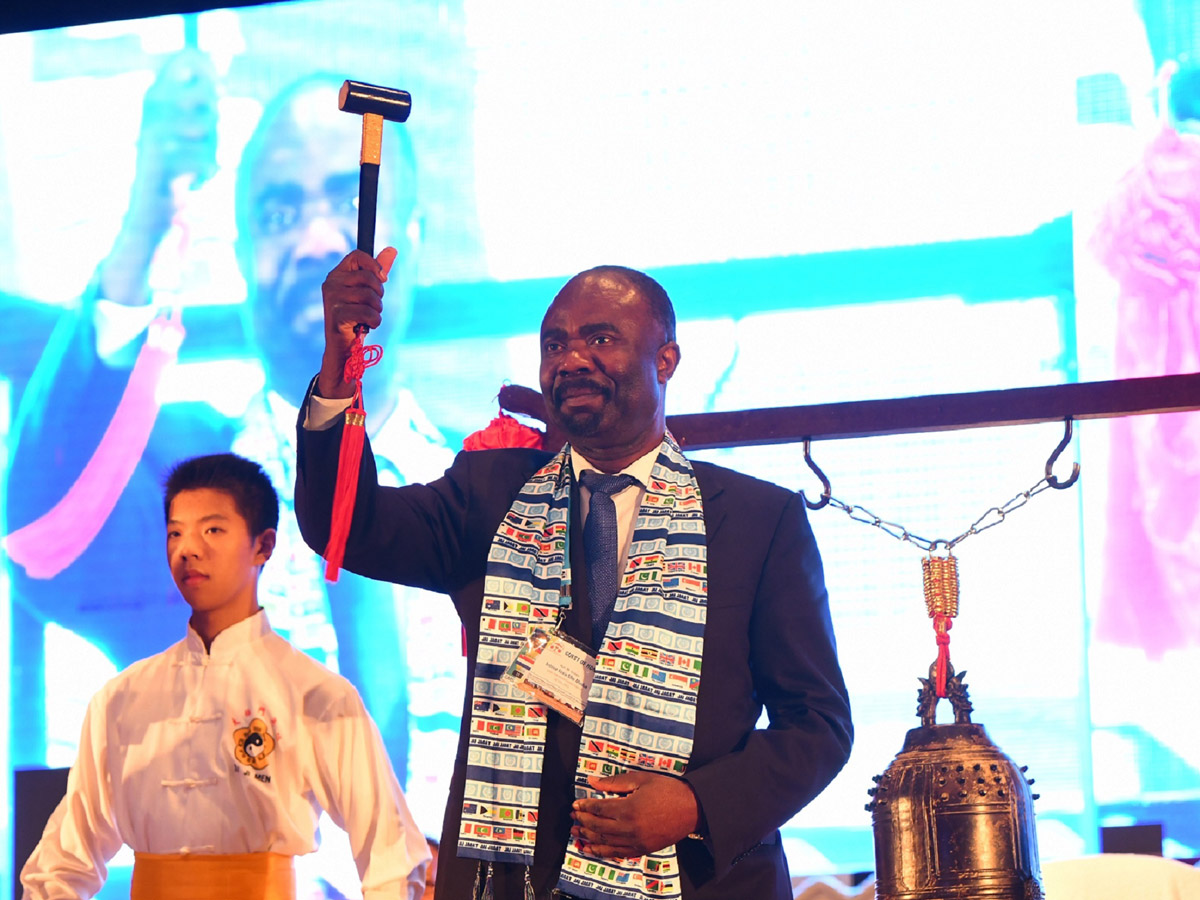 The justice of International Criminal Court in Netherlands, Mr. Antoine Kesia-Mbe Mindua, said "My heart is full of love." He felt delighted and honored to be invited to participate in this significant bell-ringing ceremony. He said, "We need love and peace in our world. FOWPAL is just doing the great mission. Under the leadership of Dr. Hong, FOWPAL becomes a group worthy of respect." He hoped to cooperate with FOWPAL and unite the whole world for peace. His wished for "A universal justice for our globalized world. A true respect of the rule of law which is a means of preventing globalized wars and international crimes."
For many years, Dr. Hong, Tao-Tze has led his delegation around the world to carry out cultural exchanges and convey the message of love and peace. So far, they have visited 90 countries and received many enthusiastic feedback and support wherever they go. Through the ceremony of ringing the Bell of World Peace and Love, important leaders of all countries are invited to make a wish and ring the bell, in hopes that the sound of the peace bell will spread widely across the earth, consolidating world leaders' wish for love and peace. Up to the present day, 333 prominent leaders from 104 countries have rung the Bell of Peace, including 40 Heads of State and Government, 7 Nobel Peace Prize Laureates, UN Ambassadors, and world leaders from various circles. FOWPAL believes the commitments of the bell ringers will bring increasing attention to the wish for peace.
---
〔Video〕How collective peace wishes of world leaders can change the world