Deputy Prime Minister of Tuvalu Endorses Declaration of International Day of Conscience
Calling for Worldwide Awareness of the Crisis of Global Warming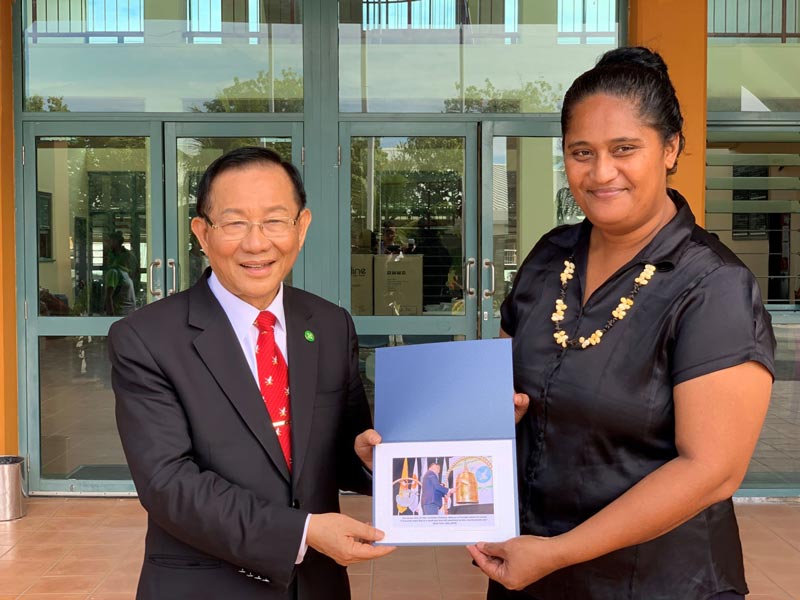 Climate change and global warming have resulted in rising sea levels, which have posed serious threats to low-lying nations, and Tuvalu is at the forefront of these effects. The Tuvalu government's determination to tackle the issue head on has gained wide admiration and support. In May, UN Secretary-General António Guterres visited several nations in Oceania, such as Tuvalu, Vanuatu, and Fiji, to call for international attention to climate change. On July 18, the delegation of the Federation of World Peace and Love (FOWPAL), led by Dr. Hong, Tao-Tze, President of FOWPAL, visited Tuvalu, which is the 98th country that FOWPAL has visited. Over the past nearly two decades, FOWPAL has conducted cultural exchange trips around the world to promote love and peace.
    Since 2002, when the representatives of Tuvalu and FOWPAL first met at the United Nations, FOWPAL and Tuvalu have forged a precious friendship. In 2016, the Governor-General of the Republic of Tuvalu, H.E. Sir Iakoba T. Italeli rang the Bell of World Peace and Love and made a wish: "Let there be peace, justice and love for humanity." The Governor-General mentioned that Tuvalu is a peaceful nation with no crimes, where people feel safe sleeping outdoors and leaving their doors unlocked. The only problem they are facing is climate change, an existential threat.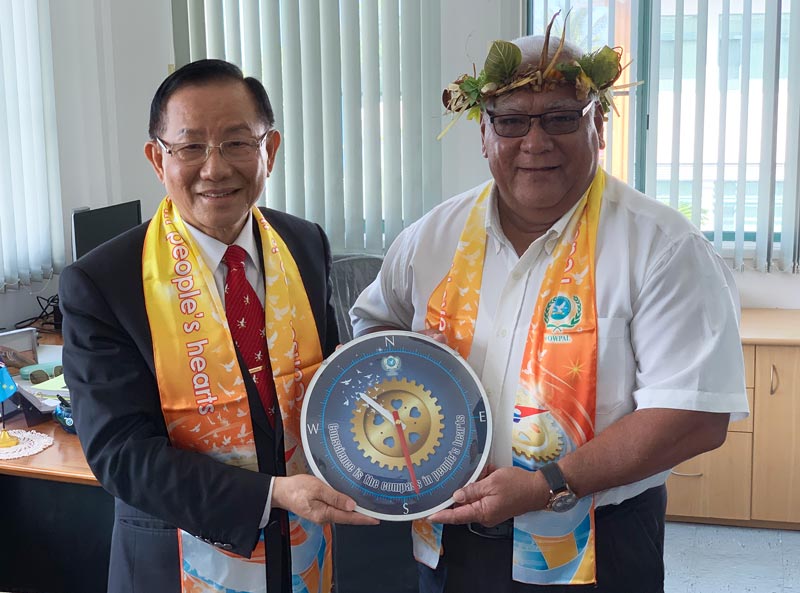 In July, FOWPAL visited Tuvalu for the first time to share messages of peace and promote a culture of peace with love and conscience. On July 19th, the FOWPAL delegation visited several government agencies. The delegation visited the Office of the Governor-General and was received by Ms. Lafita Paeniu, the Asia Desk Officer of the Ministry of Foreign Affairs. On behalf of H.E. Sir Iakoba T. Italeli, Governor-General of the Republic of Tuvalu, Ms. Paeniu was presented with a collection of photos of the Governor-General by Dr. Hong. The photos were taken when the Governor-General rang the Bell of World Peace and Love in New York in 2016. The delegation also met with Hon. Maatia Toafa, Deputy Prime Minister and Minister of Finance of Tuvalu. After learning about the Declaration of International Day of Conscience, the Deputy Prime Minister concurred that conscience is important in guiding a person's direction in life and asked if any person in Tuvalu had endorsed the declaration. On behalf of the people of Tuvalu, he then endorsed the declaration, making Tuvalu the 150th nation that has participated in the endorsement campaign. It is stated in the declaration, "Interdependent and interconnected, all world citizens are encouraged to face international and national crises with compassion, bravery, and genuine wisdom as they actively seek peace and harmony as well as multi-win plans to benefit Mother Earth and all people." In support of the Declaration of International Day of Conscience, Dr. Hong and the guests each held a special clock, a compass of conscience, symbolizing that people should follow the guidance of their conscience at all times, strive to spread love, and live peacefully with one another.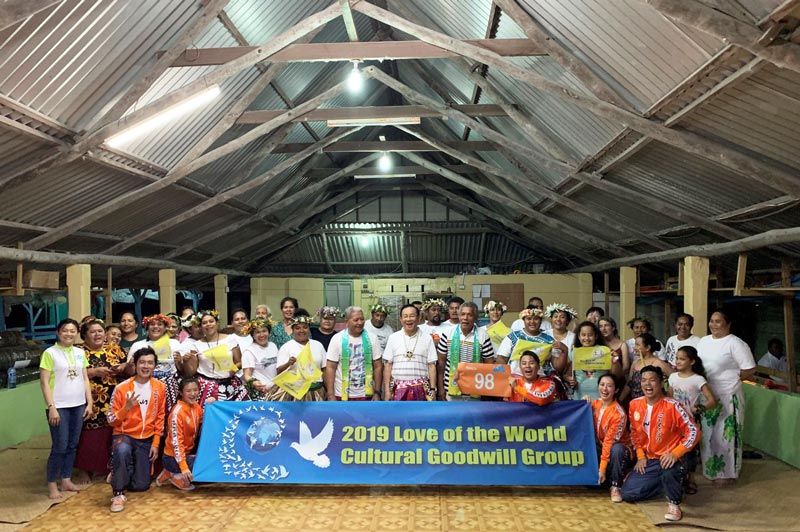 FOWPAL is an international peace organization. It has been promoting the idea of love and peace, fostering exchange of ideas among nations, and consolidating consensuses from leaders in various circles through different means, such as organizing summits of love and peace, hosting ceremonies of ringing the Bell of World Peace and Love, and conducting cultural exchanges. On the evening of July 19, the FOWPAL delegation conducted cultural exchange with a dance group from Tuvalu's Nukulailai Island. The dance group presented a passionate and energetic dance, allowing the spectators to experience the culture of the South Pacific. The Energy Boys and Girls of the FOWPAL delegation delivered a powerful "Dragon Horse Dance" and an uplifting dance titled "We Are One World." Mr. Luni Tinilau, the director of the Tuvaluan dance group, said that he was grateful to the FOWPAL delegation for traveling thousands of miles to visit his nation and that he agreed with the idea of love and peace. He said that when his dancers and FOWPAL members danced together, he couldn't tell that they have different cultures and nationalities as they acted like brothers and sisters of one big family. Dr. Hong, Tao-Tze, President of FOWPAL, presented to Mr. Fiavai Tinai, Chief of the Nukulailai Island, a certificate of appreciation for fostering cultural exchange. Ms. Leata Loleni, representing the Tuvaluan dance group, presented to Dr. Hong a traditional Tuvaluan dance outfit and a necklace made of shells. 
Having suffered the devastation of World War II, many island nations in the South Pacific are now facing new severe challenges brought forth by global warming. The impacts of climate change affect everyone on Earth, and no one is an outsider. FOWPAL wishes to spread the important message of love and peace around the world. It has kept calling for international awareness of the crisis of global warming and encouraging people to strive together for global sustainability.