FOWPAL Visits Romania - Fostering a Culture of Love and Peace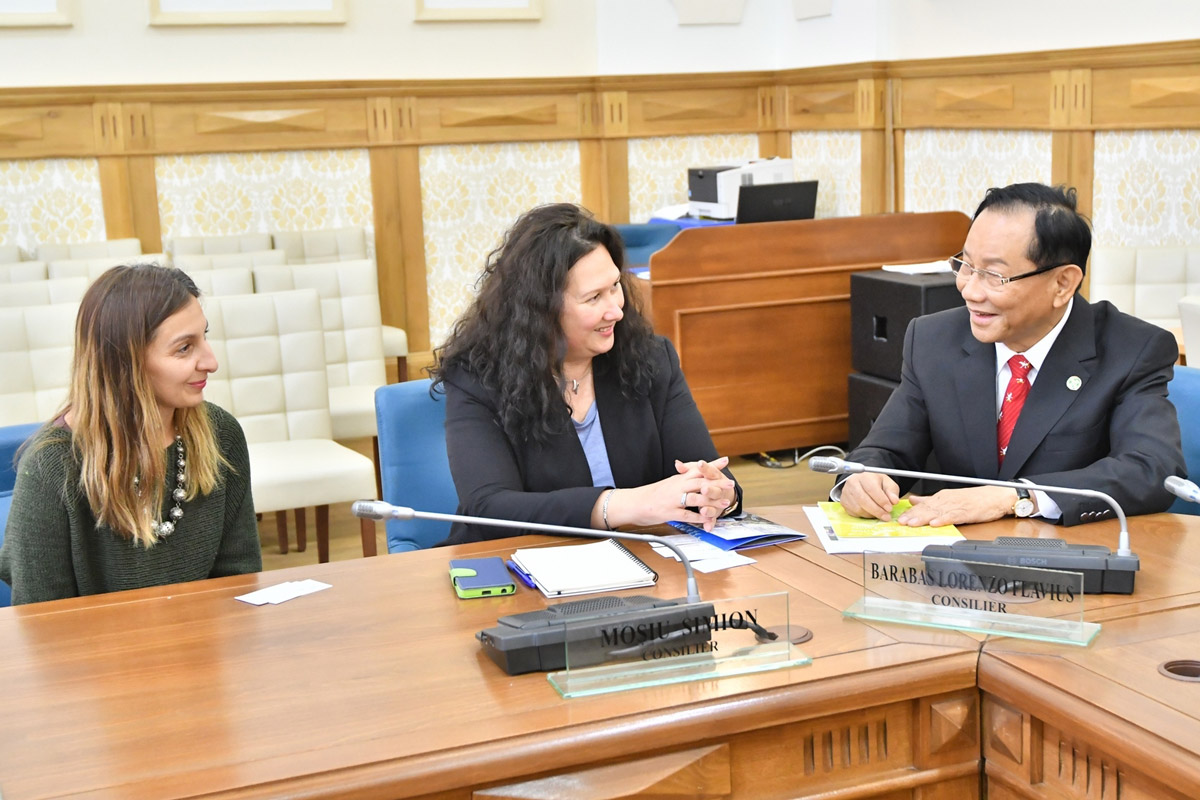 (By Lianne Huang, Romania) Dr. Hong, Tao-Tze, President of the Federation of World Peace and Love (FOWPAL), and FOWPAL delegates arrived in Romania on October 19, 2018 to spread the seeds of love and peace. On October 22, they paid a special visit to the Timisoara City Hall. The city, which has been influenced by Austrian culture, is frequently referred to as "Little Vienna." On behalf of the mayor of Timisoara, Ms. Diana Donawell, Head of International Relations, received the FOWPAL delegation. Dr. Hong praised the city's growth and shared FOWPAL's experiences and achievements in promoting love and peace worldwide. Romania is the 89th nation that FOWPAL visited.
Dr. Hong shared with Ms. Donawell some of the highlights of FOWPAL's peace endeavors. Over the past nearly two decades, FOWPAL has hosted ceremonies of ringing the Bell of World Peace and Love and invited heads of state, Nobel Peace Prize laureates, and other visionary leaders to ring the Bell and work together for world peace. Additionally, the FOWPAL delegation attended the 66th UN DPI/NGO Conference in Korea in 2016 and interacted with the then UN Secretary-General Ban Ki-moon. Dr. Hong led the FOWPAL delegation to promote love and peace in the Vatican City State and shared with His Holiness Pope Benedict XVI, "No love, no peace. Peace needs love. Love needs to be balanced." Dr. Hong mentioned that education is very important and that a good culture nurtures a quality education, which leads to a good economy.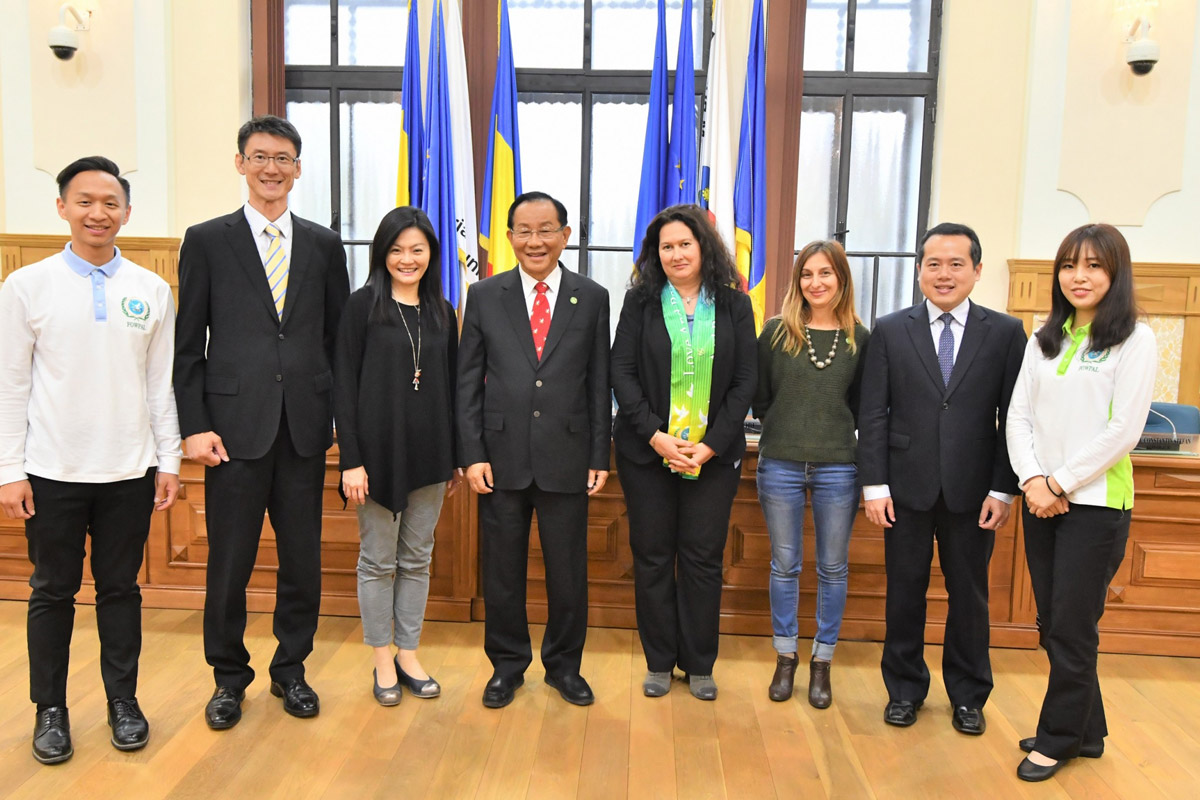 Ms. Donawell also thinks that education is very important. She shared what Romania is doing to boost its economy. For long-term economic development, youth education is very crucial, and a quality education will make many things possible, added Ms. Donawell. Dr. Hong mentioned that each year FOWPAL is invited to attend the International Conference of Chief Justices of the World in India to pass on the message of love and peace to the students there. FOWPAL has attended the annual conferences for nine times.
The City of Timisoara, close to Hungary and Serbia, is a melting pot of cultures. In 1989, the Romanian Revolution started in the city, soon spread across the nation, and overthrew the communist government led by Nicolae Ceausescu. Now the city is the main social, economic, cultural, and educational center in western Romania.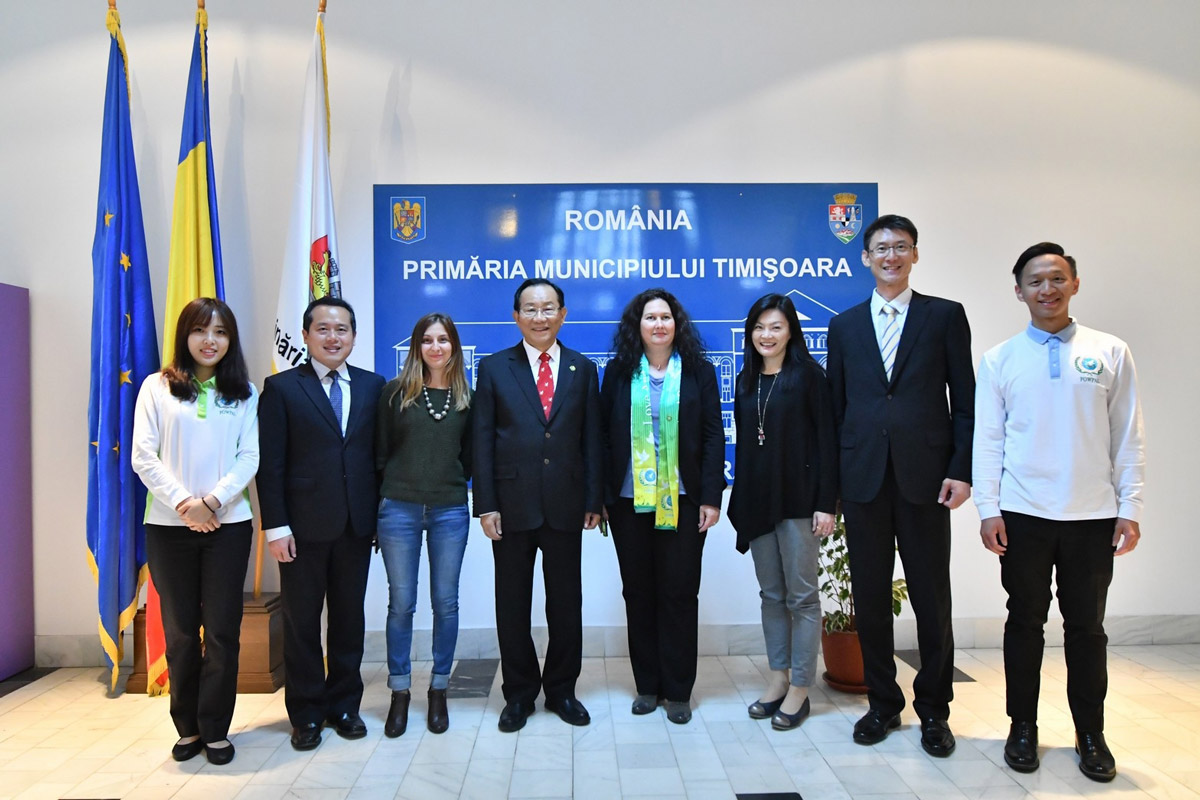 Dr. Hong congratulated Timisoara for being selected as the European Capital of Culture for the year 2021. He mentioned that he had been promoting culture for 52 years and had conducted cultural exchanges with leaders in all fields. Dr. Hong said that "no money, no peace" because a good economy is essential to a nation's stability and development. Dr. Hong emphasized that fostering a culture of love and peace is the most important thing, which is the key to a prosperous and strong nation. If a wealthy country uses a big portion of its money to buy weapon, the country will not attain true peace; conflicts between the nation and other nations may occur as a result.
Ms. Donawell mentioned that peace is extremely important for the countries on the Balkan Peninsula, which have experienced many conflicts and wars. Dr. Hong presented to Ms. Donawell FOWPAL's "key to the heart." Ms. Donawell expressed her heartfelt gratitude for the meaningful gift and presented to Dr. Hong a set of books featuring the scenic spots in Timisoara. The entire dialogue between Dr. Hong and Ms. Donawell was full of love, peace, and wisdom. 
On this trip to Romania, the FOWPAL delegation visited a total of seven cities. In addition to visiting government officials, FOWPAL members also conducted cultural exchanges with common citizens. Through singing and dancing, they spread beautiful message of love and peace in the country.