International Day for Tolerance 2020
Promoting a Peaceful and Tolerant World with Love and Conscience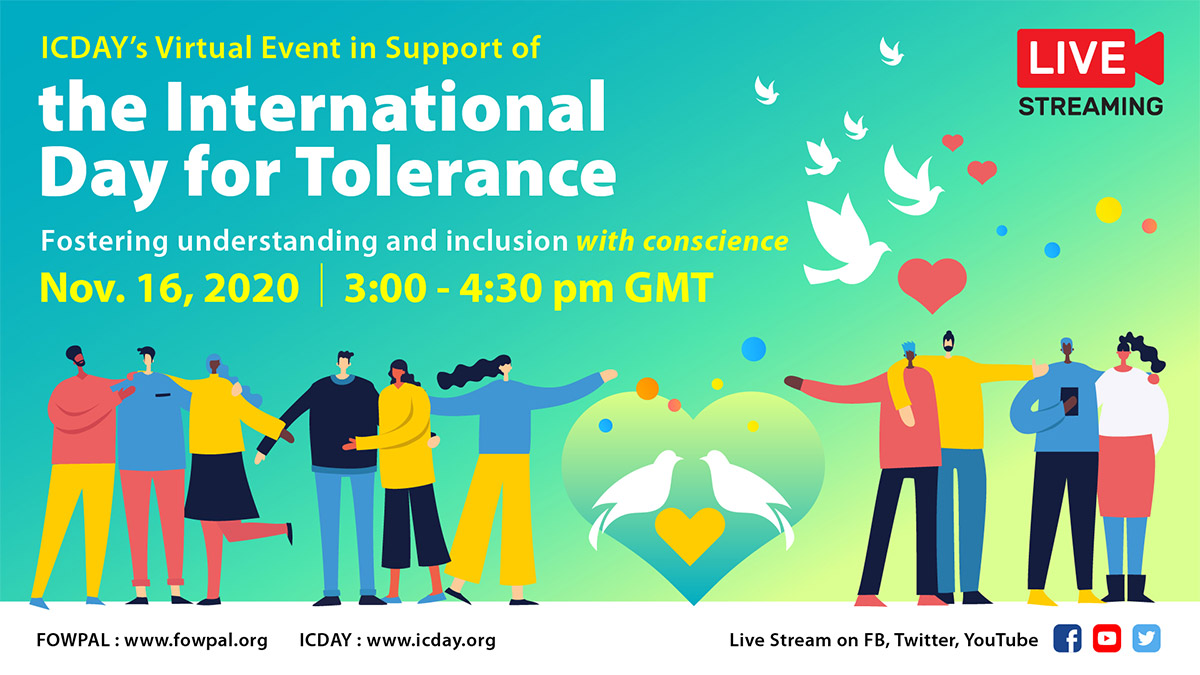 With COVID cases surging worldwide, fueling tensions among people and nations, tolerance is urgently needed now more than ever. In support of the UN International Day for Tolerance, the Federation of World Peace and Love (FOWPAL) hosted a virtual forum on November 16, 2020, where distinguished speakers shared their personal experiences, thoughts, and suggestions for fostering the important virtue of tolerance.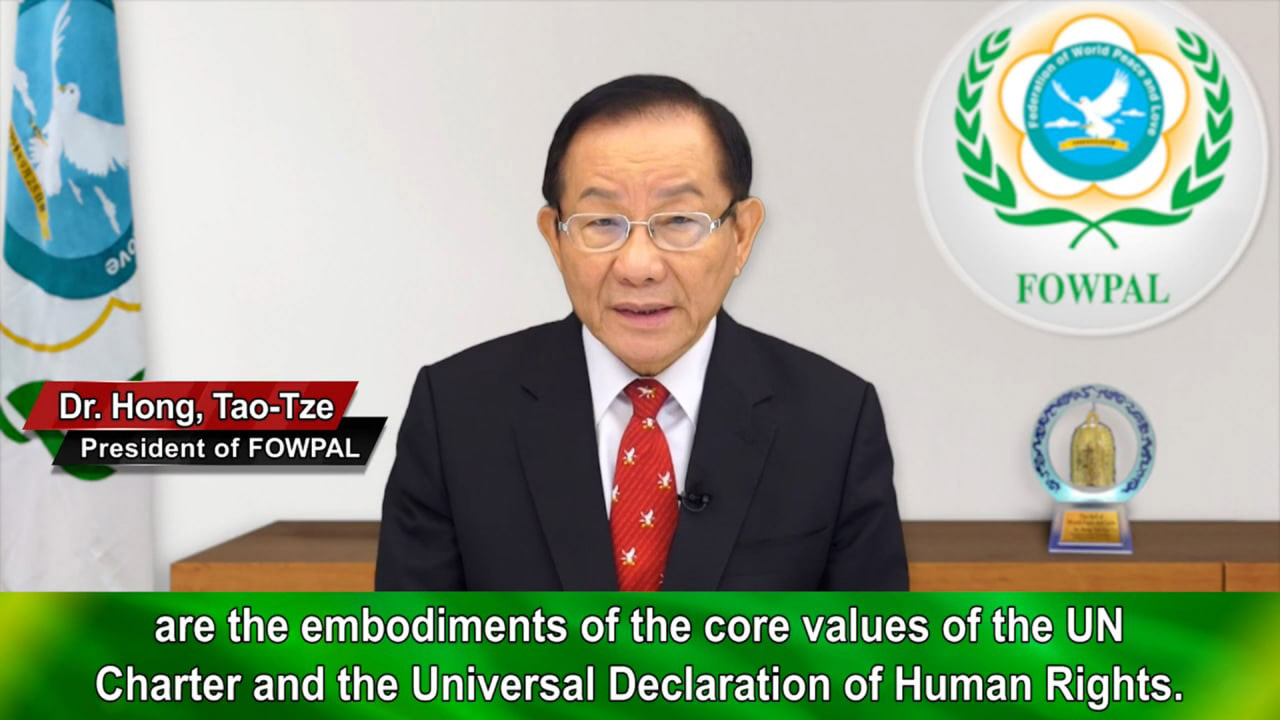 Dr. Hong, Tao-Tze, the president of FOWPAL, emphasized that "We cannot stop our endeavors of promoting mutual understanding among different cultures and peoples. The key to achieving the ultimate goal of love and peace is conscience-driven tolerance. At the personal, local, and national levels, we should accept and respect the various cultures in the human family, appreciate the diversity, promote unity and cooperation between countries, maintain peace, and promote the balance and harmony between humans and the environment so that all living things in the world can coexist peacefully and thrive."
Dr. Werner Fasslabend, former defense minister of Austria, said, "In order to live up to our uniqueness, we need tolerance. We need to be tolerated by others and also to tolerate ourselves, other people, their habits, their personalities."
"The consciousness of each individual influences the world because each human being is a noble sacred existence," said Mrs. Masami Saionji, the chairperson of the World Peace Prayer Society in Japan, adding that "Let's call forth all the love and grace in our hearts as we open up a bright new era together."
"Dialogue is necessary to realize tolerance, respect, and their existence in life," said Dr. Akkan Suver, the president of the Marmara Group Foundation in Turkey. "We can carry the world to the future in peace with tolerance and respect," he added. "Therefore, I appreciate Dr. Hong's initiative and I care about his dialogue work that allows us to get to know each other better." 
Dr. Kuiljeit Uppaal, the world's first image scientist & impact strategist and a recipient of the prestigious Karmaveer Chakra Award, instituted by the UN, stated, "Tolerance is a very important concept that helps people to live together peacefully. Let us bring in positive and serene vibes at our own personal levels within our environment and embark on the global vision of a beautiful and accepting world with a conscience that resonates for love and peaceful coexistence." 
"We live in a time of violent extremism which can lead to armed conflict. Therefore, we need to combat fear, exclusion and hatred with dialogue and a spirit of mutual respect," said Professor Rene Wadlow, the president of the Association of World Citizens, adding that "Tolerance and mutual understanding are values at the heart of the United Nations' Charter and the Universal Declaration of Human Rights." 
"Education, education, education! If we want to practice tolerance, we must teach tolerance," said Dr. Mary Shuttleworth, the founder and president of Youth for Human Rights International in the United States. She encouraged everyone to "promote, teach and know the United Nations Universal Declaration of Human Rights as an important guide to universal intrinsic human kindness and play a positive role to foster respect, understanding and truly practice the spirit of tolerance. Working together, let's make every day a day of tolerance." 
Abdelmadjid Amrani, professor of political philosophy at University of Batna in Algeria, shared his family tragedy during the colonial past and said, "I am trying as much as possible to cooperate with the former enemy French people as well as other peoples in order to build a New Civilization that aims at peaceful coexistence and promoting the concept of tolerance."
"Conscience will lead us to this new model of life," said Nina Goncharova, the president of Siberian Center for Eurasian Projects in Russia, encouraging people to follow and create a new model of life "based on one world outlook for all humanity, on really humane relationships and a totally different way of life." 
"We developed the culture of saying WE instead of I," said Dr. Md. Sabur Khan, the chairman of Daffodil International University in Bangladesh, adding that "We appreciate the Federation of World Peace and Love, which is known as FOWPAL, for supporting International Day for Tolerance and generating positive thoughts among us all." 
Amina L. Leewo, the representative of the Flame of Peace in Bahrain; Paul H. Sladkus, the president of Milestone Broadcast Corporation; and Dr. Zekeh Gbotokuma, associate professor of philosophy at Morgan State University, had an online discussion about the topic of tolerance. 
"Tolerance starts from our homes," said Amina L. Leewo. Originally from Finland, she now lives in Bahrain and often hosts events to enhance mutual understanding among people of diverse backgrounds. She highlighted the importance of raising tolerant and cosmopolitan children and the notion that "We are all one." "If I change myself to be a better human being, if everybody changes herself/himself to be a better human being, I think we will reach a very great, peaceful world."  
"I really really believe in tolerance with our brothers and sisters and the animal and plant kingdoms as well," said Paul H. Sladkus, the president of Milestone Broadcast Corporation, adding that "If you respect each other, then life moves forward and we move forward in a healthy, happy, kind-loving way." 
"Without tolerance, I don't think my life would have been possible," said Associate Professor Zekeh Gbotokuma as he shared his personal story and the cultural transition he experienced. "It takes tolerance to be able to do what I've been able to do in terms of living and moving from my native land of Congo and living in Europe for 12 years and then moved to the US." 
Since the topic is very close to people's hearts, many peace promoters also submitted their messages to ICDAY's social media pages, and the event received over 10,000 views. If you missed the live stream, you can watch the video recording here: https://www.youtube.com/watch?v=Xy34OYFZvLQ