International Human Solidarity Day
Achieving Human Solidarity and Harmony with Love and Conscience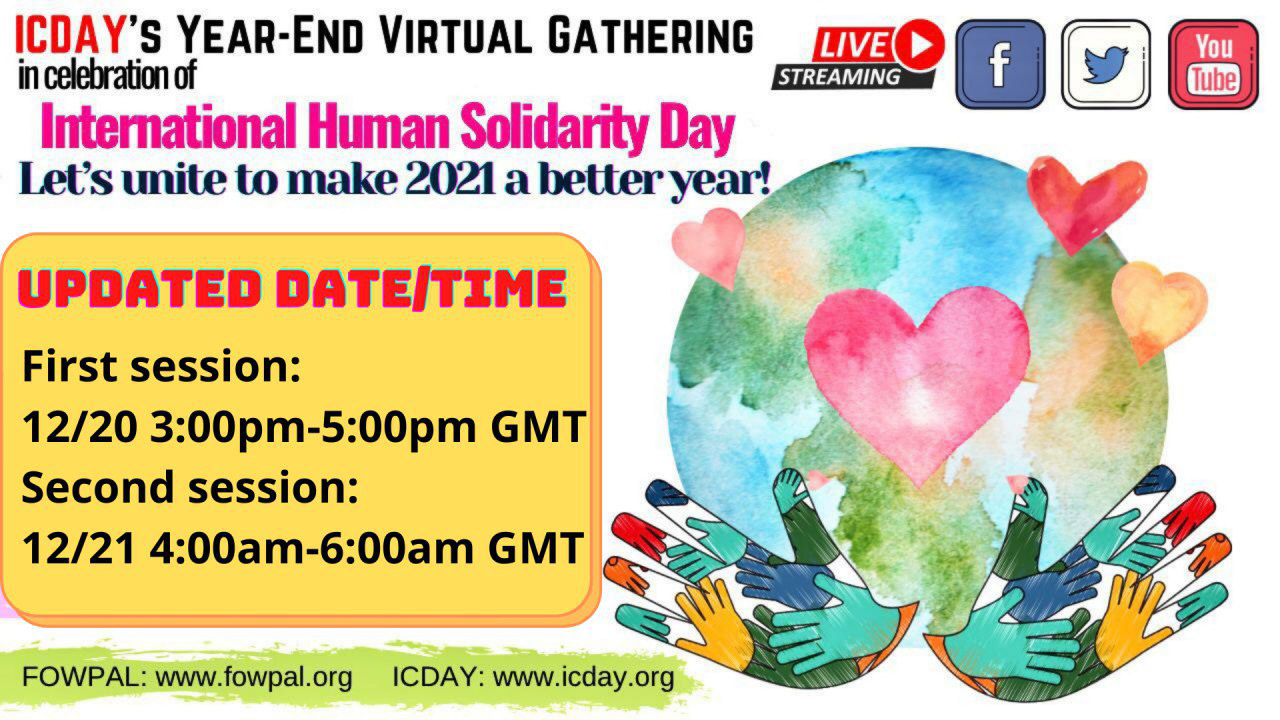 As COVID-19 pandemic continues to wreak havoc around the world, global solidarity is urgently needed now more than ever. In support of the International Human Solidarity Day, on December 20, 2020, FOWPAL held two online meetings to bring together groups and individuals from all over the world who have strived to make the world a better place. The gatherings were FOWPAL's 17th and 18th virtual events to promote conscience and various United Nations days since April 2020, and the December 20 events received over 4,500 views.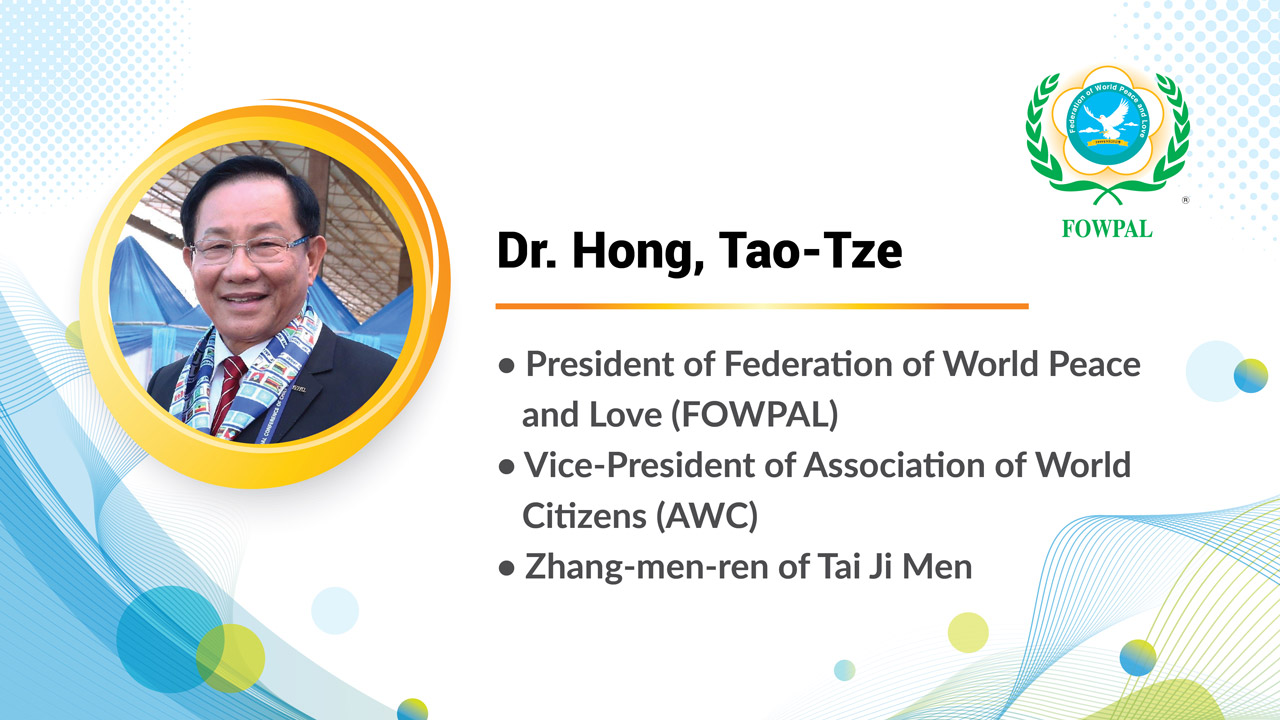 Dr. Hong, Tao-Tze, president of FOWPAL, delivered welcome remarks, pointing out the importance of conscience in fostering solidarity: "Everyone has to abide by his/her conscience to practice solidarity. Guided by conscience, we will work for the right goals with solidarity and realize justice. Only with conscience-driven solidarity can we sincerely foster mutual responsibility to cooperate effectively. World citizens are encouraged to nurture a happy, kind, and peaceful heart, to love themselves and others, and to love their countries and others' countries. Let's take action to practice respect and love for humanity, our families, our countries, and the Earth. Let's work together in solidarity to create a more beautiful world."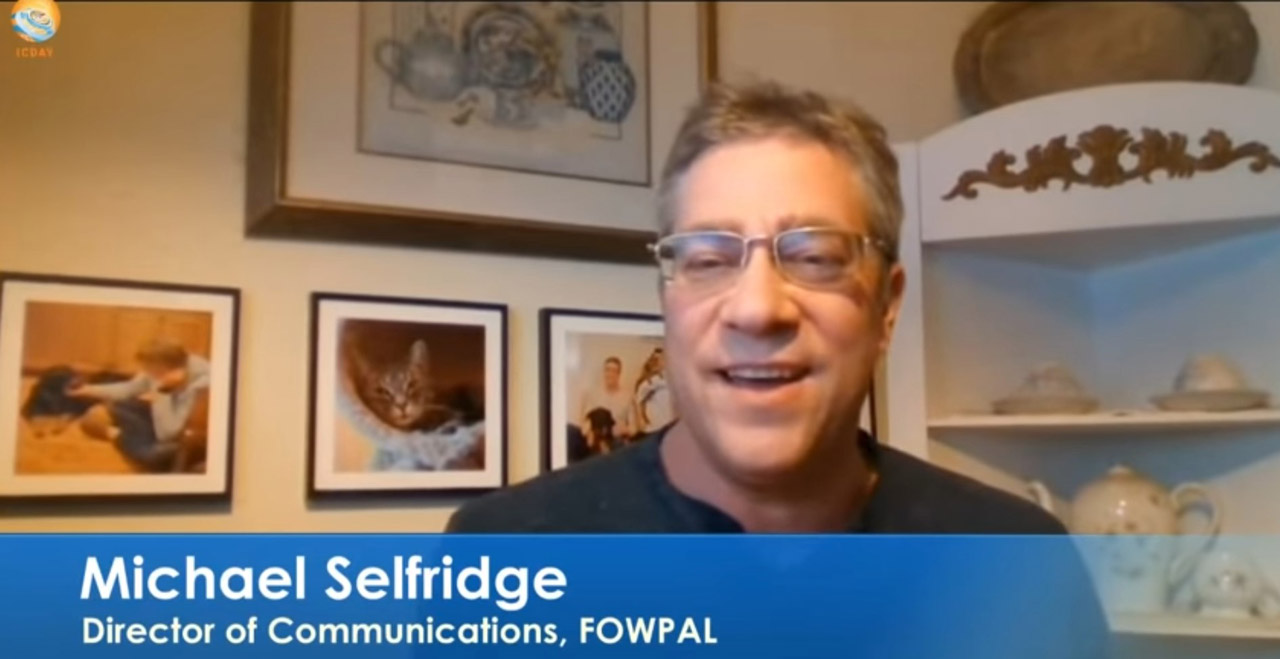 Michael Selfridge, director of communications of FOWPAL, mentioned that FOWPAL originally planned to hold big celebrations in New York and around the world on the first International Day of Conscience on April 5, 2020. However, due to the pandemic, FOWPAL had to cancel them and began to organize virtual events to gather kind-hearted people and provide a platform for an exchange of good ideas and methodologies to improve the world. He said, "It's a really good opportunity for all of our friends to join us together and work together on the online format." 
 Nina Goncharova, president of the Siberian Centre for Eurasian Projects, said that this was her 17th time participating in FOWPAL's online events in 2020. "Dr. Hong and the team make this wonderful job, and I'm very happy to really be with all of you." She mentioned that although the pandemic has kept people apart, it is impossible to separate people "because we are humans and we have loving hearts."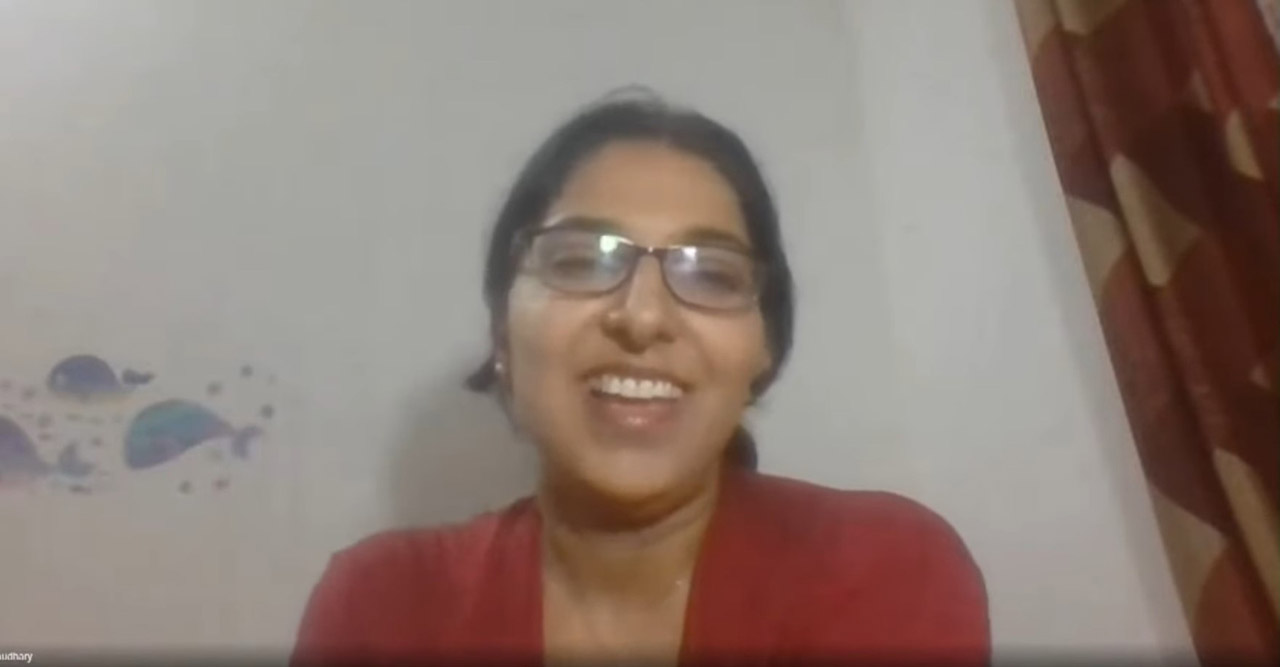 "We have been doing all the efforts that we can to make this world a better place to live in with conscience," said Vandana Chaudhary, co-founder of Rolling Nature and Initiative Earth, India. She expressed her joy of staying connected with other leaders of conscience through the ICDAY (International Conscience Day) platform created by FOWPAL, saying, "This is the best thing that has happened to me in the COVID pandemic!"
Dr. Abdelmadjid Amrani, professor of political philosophy at University of Batna in Algeria, emphasized the importance of love, peace, coexistence, mutual understanding, solidarity as well as respect and appreciation of others' cultures. He extended a warm invitation to all participants to visit Algeria and experience its culture when it is safe to travel.
"It is necessary to listen to what the other people say to be compassionate, to have a conscience to understand what other people try to tell us, how they really feel and try to walk in their shoes," said Srecko Mavrek, professor in the physical education department at Hostos Community College, emphasizing that such mutual understanding will allow people to reach their common goals more effectively.
Dr. Ramesh Kumar, head and associate professor of political science at S.D. College in India, reminded people to raise awareness about human rights, inequality, and peace on this special day to facilitate the progress and development of society, stressing, "We hope that today we will take a pledge that we will try our very best to create the awareness among the people to save the people and planet."
Carl McKay, director of Peace River/Westlock Liberal Association in Canada, shared his work in improving access to human rights for everyone equally and expressed his gratitude to FOWPAL for connecting kind-hearted people around the world, saying, "Thank you, Federation of World Peace and Love for bringing us together for International Human Solidarity Day." "Collectively, the Federation of World Peace and Love has allowed me to share my views and make friends simultaneous around the world." 
Jemai Douha, a teacher in Mustapha Kraif Middle School in Tunisia, shared her experience in helping others in her community and said, "Solidarity is the only tool for reducing inequality and social injustice in the world. Solidarity leads to the sustainable development of people." She said that through education solidarity can be cultivated and positive changes can happen.
"Meeting different people from different countries is really amazing and I love it. I would like to thank all the organizers for this," said Joseph Wandoga, founder of a Uganda-based NGO Give Hope Africa. He is helping and motivating people to do their part to change the world and reminding them to be addicted to "good things," such as helping people.
Ivan Ricardi in Mexico presented a beautiful Spanish song with English subtitles called "No More Wars," urging everyone to promote peace. Many other participants also shared their experiences and wishes for the coming year.
To encourage all kind-hearted people to continue to make meaningful contributions to the world, FOWPAL presented a song titled, "Let Love Light Up Your Life" and two beautiful downloadable calendars: FOWPAL 2021 Calendar and ICDAY 2021 Calendar, featuring a collection of Dr. Hong, Tao-Tze's conscience maxims, which aim to encourage people to follow the guidance of their conscience as they strive for a world of love and peace as well as a sustainable future for themselves and their offspring. Please share these two calendars widely, sending boundless love and blessings to your family and friends!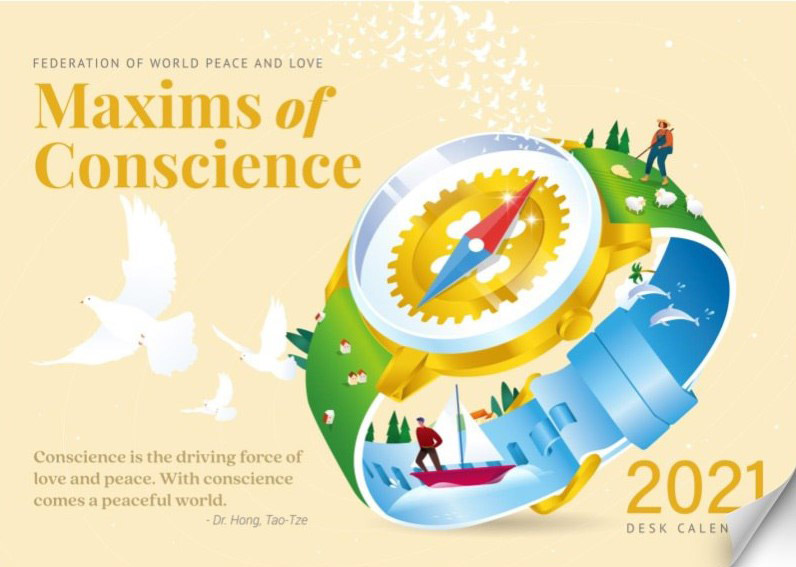 FOWPAL presented a beautiful downloadable calendar: FOWPAL 2021 Calendar, featuring a collection of Dr. Hong, Tao-Tze's conscience maxims.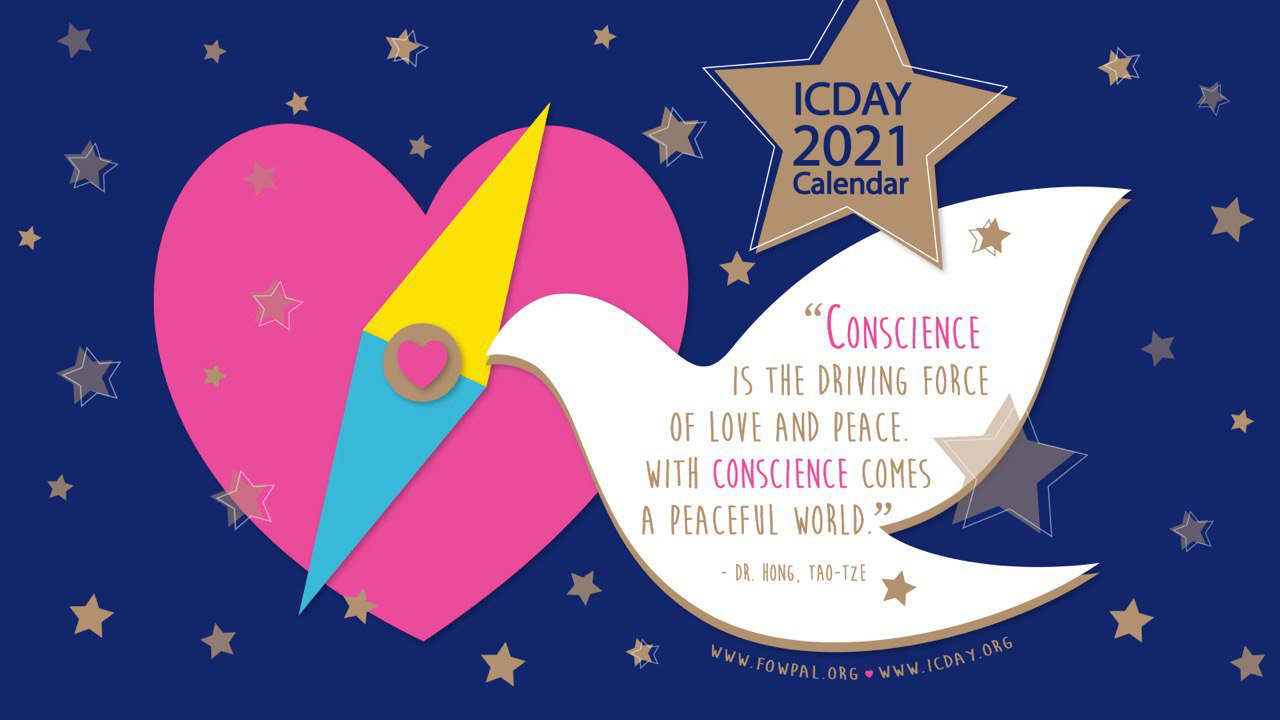 FOWPAL presented the beautiful downloadable ICDAY 2021 Calendar, featuring a collection of Dr. Hong, Tao-Tze's conscience maxims.
In 2021, FOWPAL will continue to host virtual events to spread the power of conscience and invite more people to work together to transform the world. If you missed the live programs, you are cordially invited to click on the links below to watch the videos. Please invite your family and friends to follow FOWPAL's virtual activities in 2021!
 https://www.youtube.com/watch?v=PmswCALXFvs&t=6914s