International Youth Forum of Love and Peace Takes Place at University of Bahrain
Fostering Future Leaders' Conscience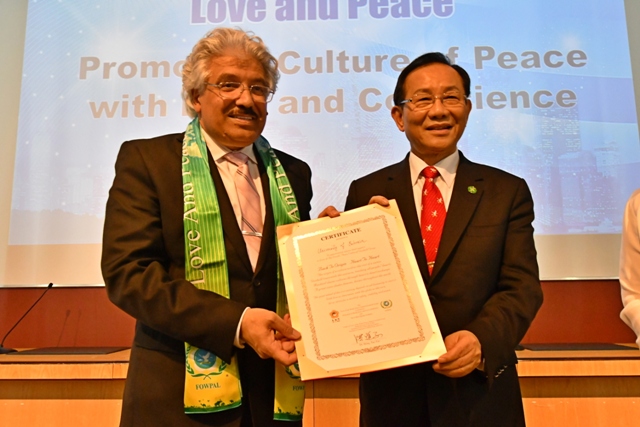 (By Wenny Tsai, Bahrain)
An elegant feather fan dance once only accessible to nobility in Eastern ancient royal courts and energetic martial arts performances were showcased in Bahrain as the Federation of World Peace and Love (FOWPAL) and the University of Bahrain co-hosted the 2018 International Youth Forum of Love and Peace. During the forum, FOWPAL youth and students at the University of Bahrain delivered speeches under the theme of "Promoting the Culture of Peace with Love and Conscience." 
The University of Bahrain is the only national university in the Kingdom of Bahrain. Under the leadership of Prof. Riyad Hamzah, President of the University of Bahrain, the university ranked 31st in the Arab region in 2018 based on the Quacquarelli Symonds (QS) World University Rankings, improving from 33rd place in 2016 and 42nd place in 2015. The university also enhanced its diversity by accepting students from around the world. On Nov. 27, 2018, it along with FOWPAL co-organized the 2018 International Youth Forum, enabling its students and FOWPAL youth to exchange their ideas on love and peace.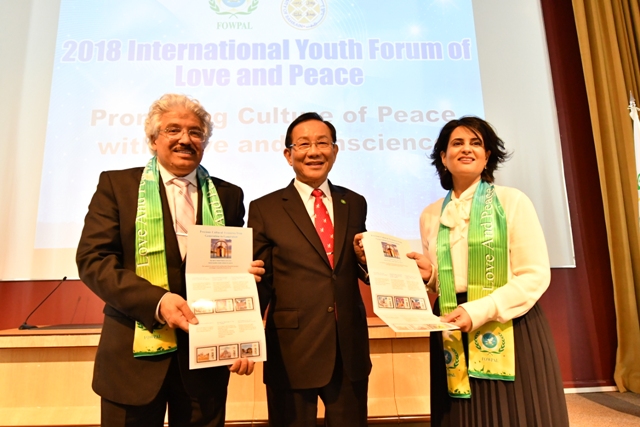 At the forum, Dr. Hong, Tao-Tze, President of FOWPAL, presented to Prof. Riyad Hamzah a certificate of appreciation for cultural exchange. Prof. Hamzah said, "This forum would always inspire our students because it talked about living together. It talked about dialogue, peaceful coexistence, respecting others, and respecting their opinions." The forum allowed the students to learn and benefit from different cultures and civilizations, added Prof. Hamzah. 
In Dr. Hong, Tao-Tze's welcome remarks, he provided two suggestions with regard to personal growth, national development, education, and culture. The first suggestion: "Amidst all kinds of changes, we need to keep a calm, grateful, and happy heart. . . . The life journey of each person may be different, but having courage will bring us hope, energy, and wisdom. If we continue to train ourselves in our daily lives, innovate within ourselves, and follow the examples of past saints and sages, we will become resourceful and resilient; our potential will be unleashed, and we will have amazing achievements."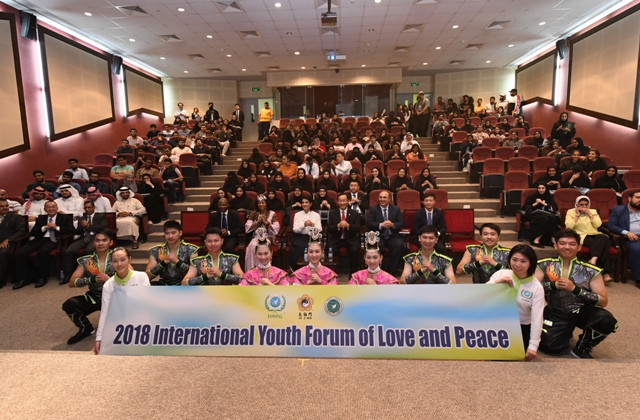 Dr. Hong's second suggestion: "We need to instill the values of a culture of peace into the hearts of children, youth, and all ages including senior citizens. The passing down of an excellent culture and a conscience-driven education can nurture the foundation of goodness in children and youth. When leaders act with conscience in their positions, they serve as role models and encourage others to do so as well, in order to achieve a critical mass of goodness. When the leaders and their people are united to jointly do good deeds, a virtuous cycle is started that benefits the nation's development."
Rui-Ting Tsai, a young FOWPAL volunteer, shared his experiences of following Dr. Hong to promote love and peace in various countries. Last month, Dr. Hong led him and other FOWPAL members to visit several nations on the Balkan Peninsula. He found that the people of these nations, which have experienced many conflicts and wars, have a strong desire to attain peace.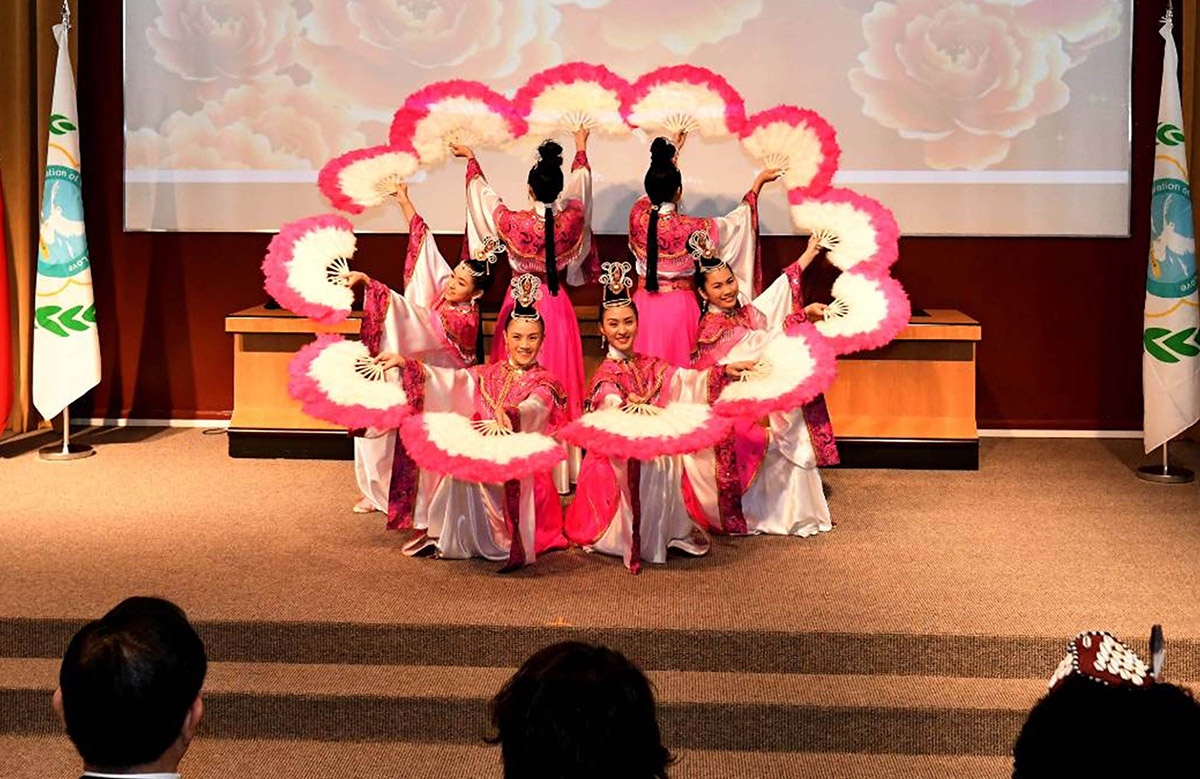 Many of them embraced FOWPAL members and danced with them when FOWPAL members spread loving and peaceful energy through their singing and dancing. The sincere cultural exchange transcended the barriers of race and nationality. Rui-Ting said, "I realized that the most important thing in life is not to achieve personal success, but to show our care, love, and empathy to others." Muneera Aqeel Alshaikh, a student at the University of Bahrain, elaborated on the saying that "ignorance is the enemy of peace" and shared that people should respect and embrace one another's differences and cultures.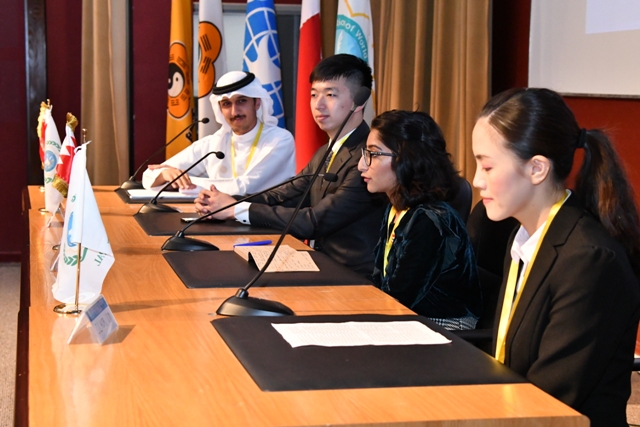 This international youth forum, with a focus on the promotion of the culture of peace with love and conscience, was attended by over 100 people, including prominent figures, such as SH. HalaBint Mohammed Al Khalifa, Director of Culture and Arts of Bahrain; Prof. Waheeb Essa Al-Naser, Vice President of the University of Bahrain; H.R.H.QueenDiambiKabatusuila of Kasai Kingdom of the Democratic Republic of Congo; and H.H. Prince Bernard Ndouga from Cameroon. H.H. Prince Bernard Ndouga praised the content of Dr. Hong's speech and said that Dr. Hong's messages came from the bottom of his heart. Dr. Hong is sincerely promoting love and peace and mutual understanding among people or even among various continents, added Prince Ndouga.
FOWPAL youth presented beautiful and powerful cultural performances. Their creative and energetic martial arts presentation titled "Bravely Creating New Opportunities" demonstrated unity and was greeted by cheers and applause from the audience. H.R.H. Queen DiambiKabatusuila stated that the smiles, happiness, and enthusiasm radiated from FOWPAL youth made people realize that when people are united, they can emit boundless energy.
〔Video〕2018 International Youth Forum of Love and Peace, Bahrain