Spreading Ideas of Conscience in Turkey, the 101st Nation FOWPAL Has Visited
Drawing a New Roadmap to a World of Conscience, Love, and Peace
Situated at the junction of Europe and Asia, Turkey is home to 18 UNESCO World Heritage Sites, which are also included in the World Heritage List, thanks to its special geographical location and rich and colorful history. On October 15, 2019, Dr. Hong, Tao-Tze, the president of the Federation of World Peace and Love, led the FOWPAL delegation to Turkey to appreciate Turkey's history, culture, and natural beauty. They also visited government agencies and non-governmental organizations to spread messages of love and peace. This is the 101st country that FOWPAL has visited for cultural exchange.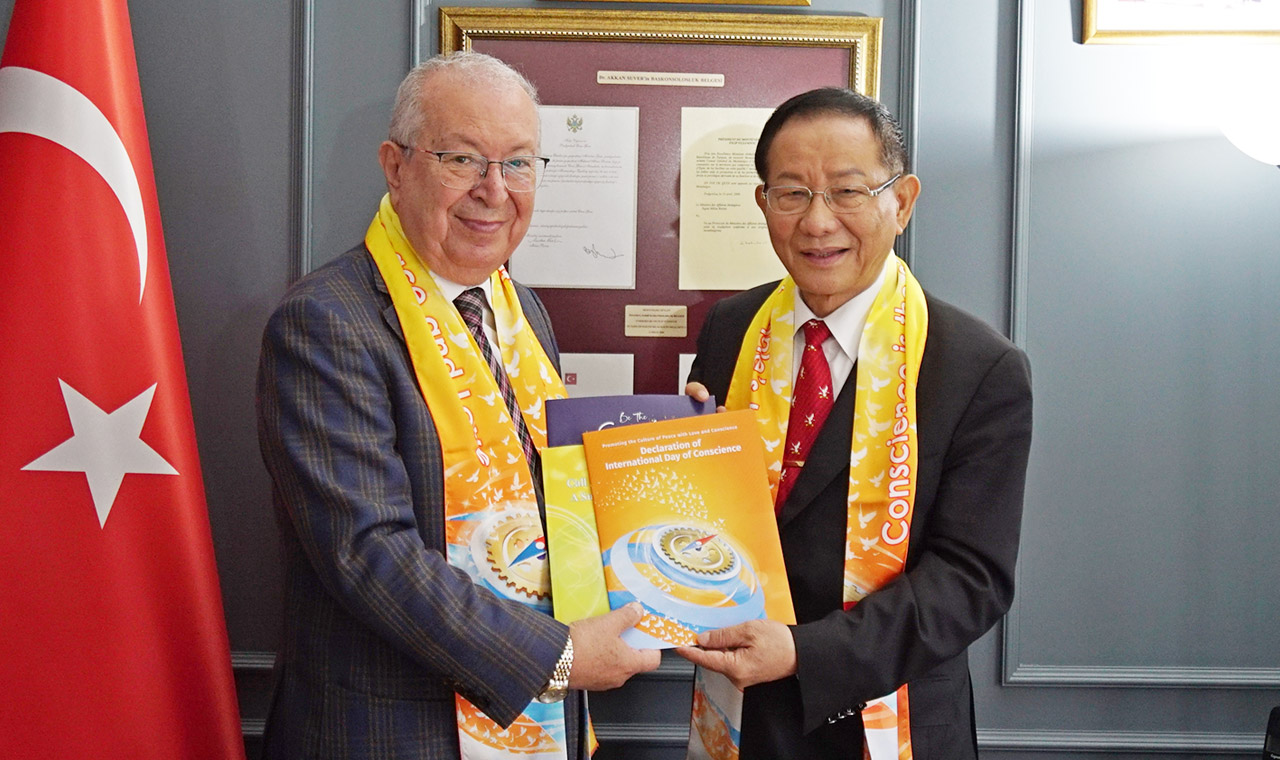 On October 15th, the delegation first met with Dr. Akkan Suver, the president of the Marmara Group Strategic and Social Research Foundation. Dr. Suver was delighted to see the delegates, who are also devoted to conscience, love, and peace and came from thousands of miles away. He was very happy about the meeting and said, "Dr. Hong came here to draw a new map for the peace, coexistence, shared prosperity and co-work we need in the world. Peace is as important as the bread and water we need now. Because of peace, we can move toward tomorrow in a steady and powerful way. For peace, Dr. Hong's analysis and annotations for conscience are very important."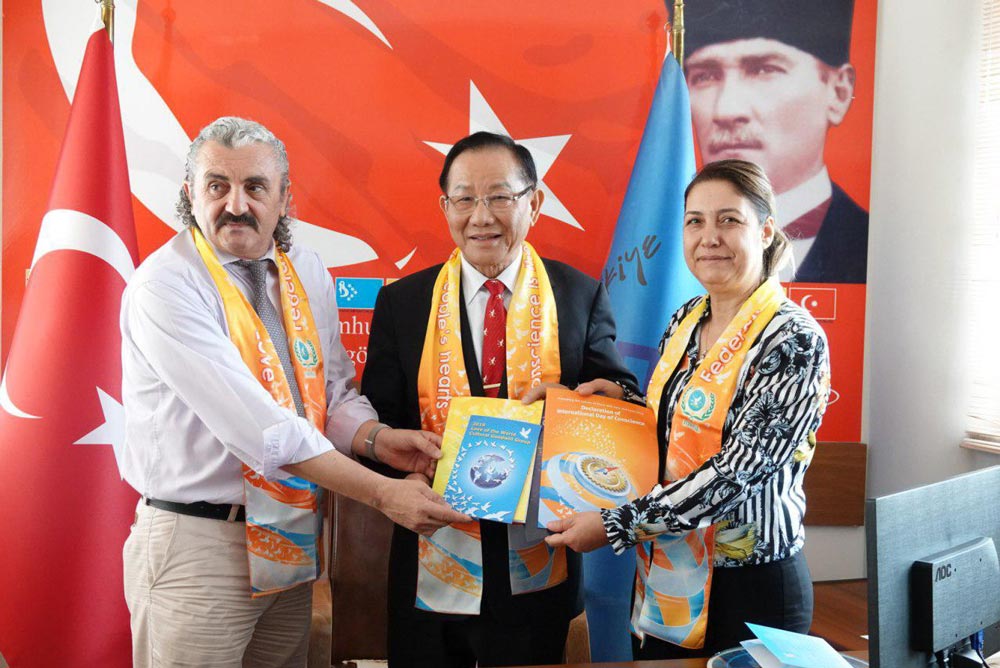 On October 16th, the delegation traveled to Pamukkale, located in southwestern Turkey. Pamukkale, which means cotton castle, is known for its exceptional limestone topography and the ancient Greco-Roman city Hierapolis. Together they are designated as a UNESCO World Heritage Site in 1988. Mr. Mustafa Kaptan, director of Denizli İl Kültür ve Turizm Müdürlüğü (Denizli Provincial Directorate of Culture and Tourism), and Ms. Gülsüm Çelebi, deputy director of the agency, received the delegates on behalf of the Honorable Governor and Deputy Governor of Denizili. Dr. Hong said that when every child has innocent and bright smiles, there will be hope for world peace and everyone will enjoy a good life. Ms. Çelebi, the deputy director, concurred with Dr. Hong and said with a smile, "This is exactly what they need."  She also expressed her admiration to the FOWPAL delegation for visiting such a wide range of people and so many countries. She thinks FOWPAL is a very successful organization and extended her best wish for the promotion of the International Day of Conscience. She pointed out that conscience is necessary for people and the world, and people need to smile more.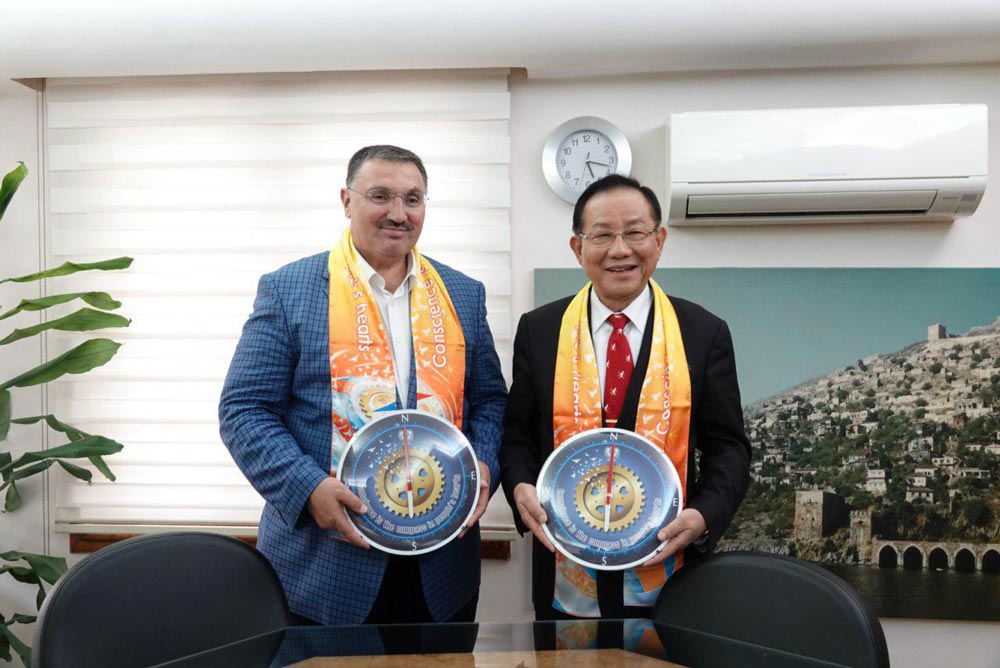 Antalya, also located in southwestern Turkey, is the fifth largest city in the country. The old town listed as a preserved area is a resort destination. Having been ruled by the Roman, Byzantine, Seljuk and the Ottoman Empires, the town boasts a heritage of architectural and cultural diversity. Mr. İbrahim Acar, Provincial Director of Culture and Tourism of Antalya, received the FOWPAL delegation on behalf of the governor of Antalya. Mr. Acar mentioned that many people and countries have talked a lot, but in reality little action has been taken. He hopes that people will follow their conscience and that everyone can live in a loving and peaceful environment.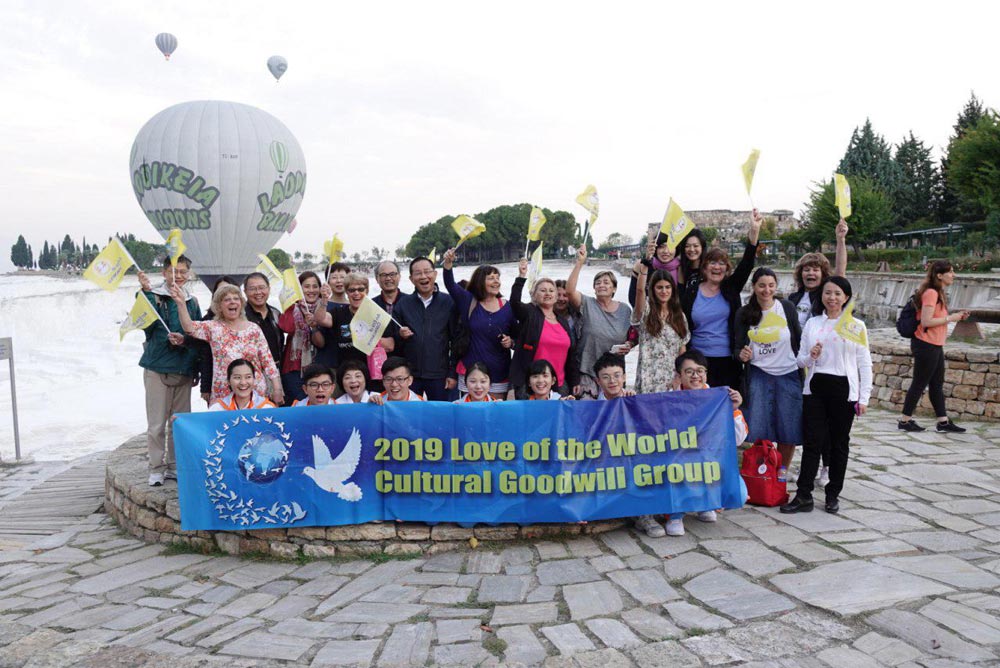 FOWPAL is dedicated to promoting a culture of love and peace. It aims to awaken the kindness in people's hearts with beautiful cultures, and it has visited many countries around the world to consolidate people's aspirations for love and peace. While in Turkey, the FOWPAL delegation invited everyone to endorse the "Declaration of International Day of Conscience."  To date, people in 174 countries have endorsed it. We hope that all people will follow the dictates of their conscience to create a future of love and peace for themselves and future generations.