United Nations Day 2020: Celebrating the UN's 75th Anniversary
Shaping a peaceful future together with conscience-driven global conversation and cooperation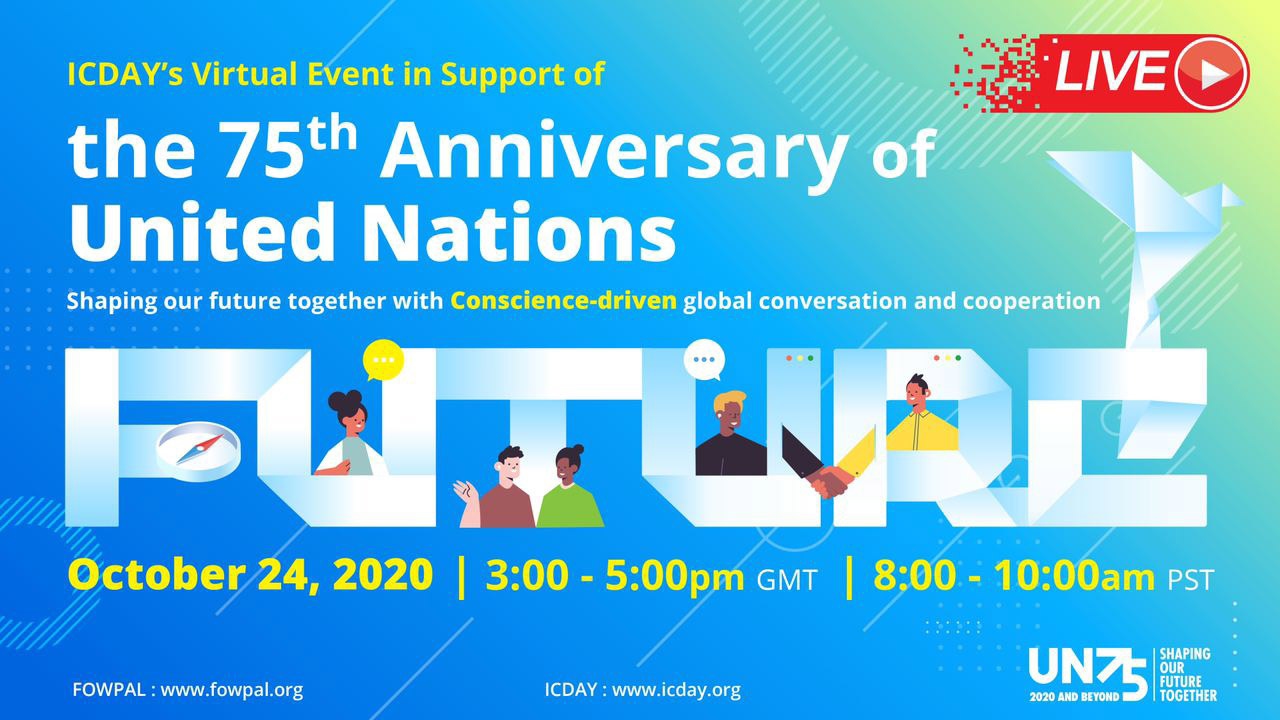 October 24, 2020 marked the 75th anniversary of the United Nations. On this day, the Federation of World Peace and Love (FOWPAL) hosted a virtual forum, where world leaders and visionaries from around the globe shared their thoughts about this remarkable milestone for all humanity. FOWPAL received congratulatory letters from Colombian President Iván Duque Márquez, Ireland's Prime Minister Micheál Martin, and former U.S. Vice President Al Gore. Bahrain's Ministry of Foreign Affairs, H.H. Henry XIII. Prince Reuss (Heinrich XIII Prinz Reuß) in Germany, and other peace-loving people and organizations all over the world also shared videos or articles in support of the event, which received over 16,000 views.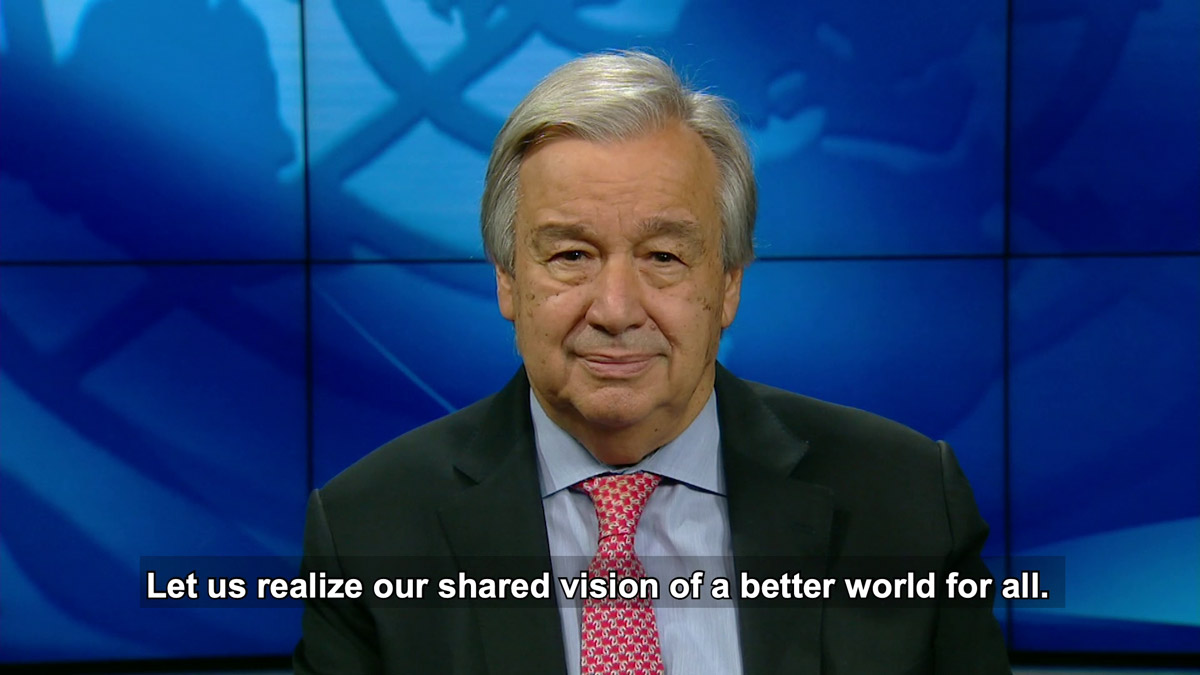 The Executive Office of the Secretary-General of the UN sent FOWPAL a video provided by H.E. UN Secretary-General António Guterres, in 12 languages, in celebration of United Nations Day. His Excellency emphasized, "We face colossal challenges. With global solidarity and cooperation, we can overcome them. That's what the United Nations is all about. On this anniversary, I ask people everywhere to join together. The United Nations not only stands with you… The United Nations belongs to you and is you: 'we the peoples.' Together, let us uphold the enduring values of the United Nations Charter. Let us build on our advances across the decades. Let us realize our shared vision of a better world for all."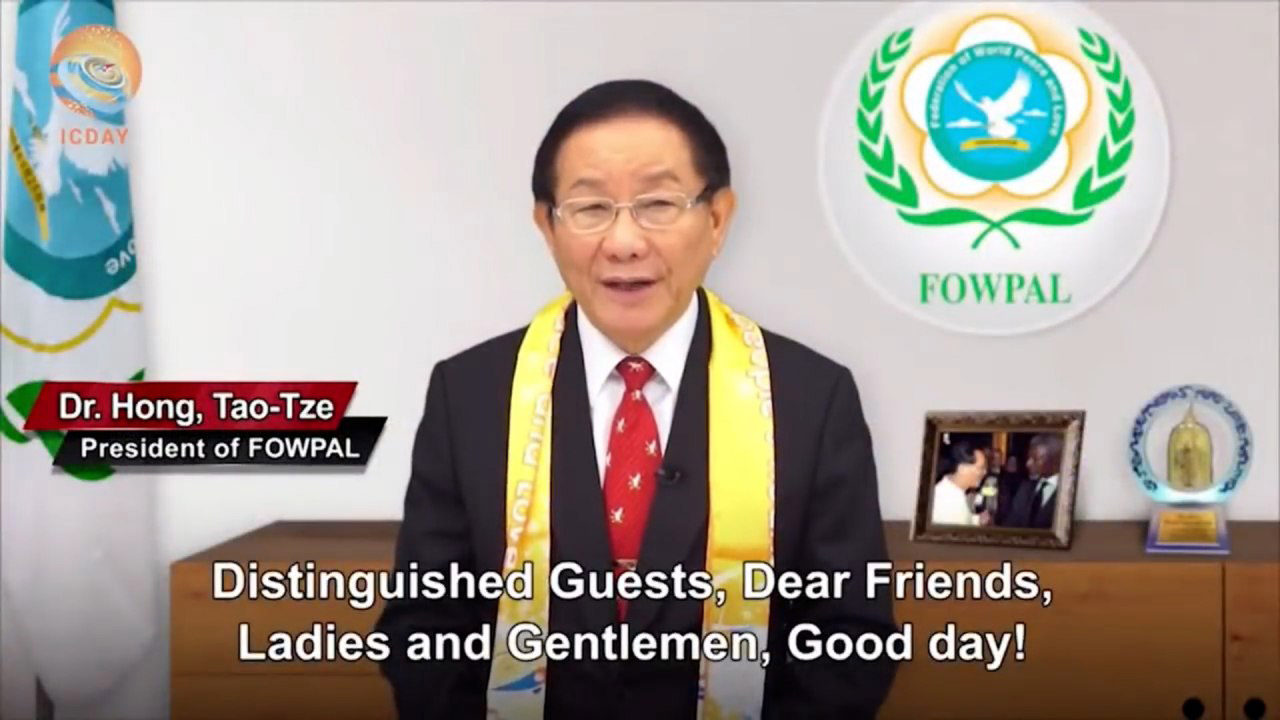 Dr. Hong, Tao-Tze, president of FOWPAL, delivered welcome remarks, emphasizing, "Today as we commemorate the UN Day, it is important to reaffirm the urgent need for global solidarity and our collective aspirations for freedom, democracy, equality, human rights and world peace. What is most important is the action from world citizens to support the spirit of the United Nations." "Our thoughts come from our hearts. Conscience leads to positive thoughts and kind actions. Only with conscience will we make right decisions. Consensus will be reached with dialogue and cooperation when world leaders connect with conscience to make decisions for the benefit of the world," he added.
Hawa M. Diallo, the chief of the Civil Society Unit in the United Nations Department of Global Communications, said, "FOWPAL is a great example of civil society commitment to UN values. They have shown strong commitment dedication in promoting international days every year, such as the International Day of Peace, the World Mental Health Day, and also the International Day for Democracy. FOWPAL's enthusiasm in bringing the message of the UN to everyone everywhere is truly meaningful. Their strong diligence to promote the environment of peace amongst communities contributes to the achievement of Goal 16 of the Sustainable Development Goals--Peace, justice and strong institutions."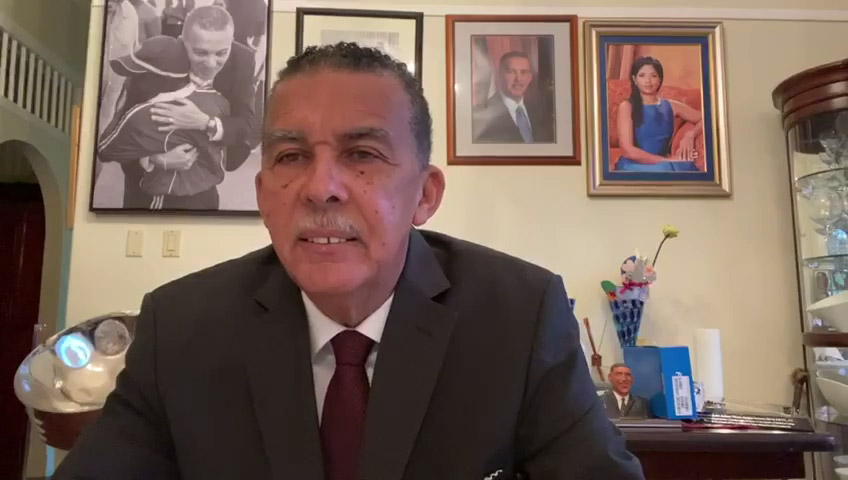 H.E. Justice Anthony Thomas Aquinas Carmona, former president of Trinidad and Tobago, stated, "The Federation of World Peace and Love (FOWPAL) must therefore be commended for hosting this particular forum, to not only celebrate United Nations Day but to also offer a platform where technocrats and world leaders are given the opportunity to proffer ideas and solutions for our global afflictions, some generated by the Covid-19 Pandemic. Additionally, what is required is leadership that adheres to the voice of conscience as the moral road map to do what is just and right always."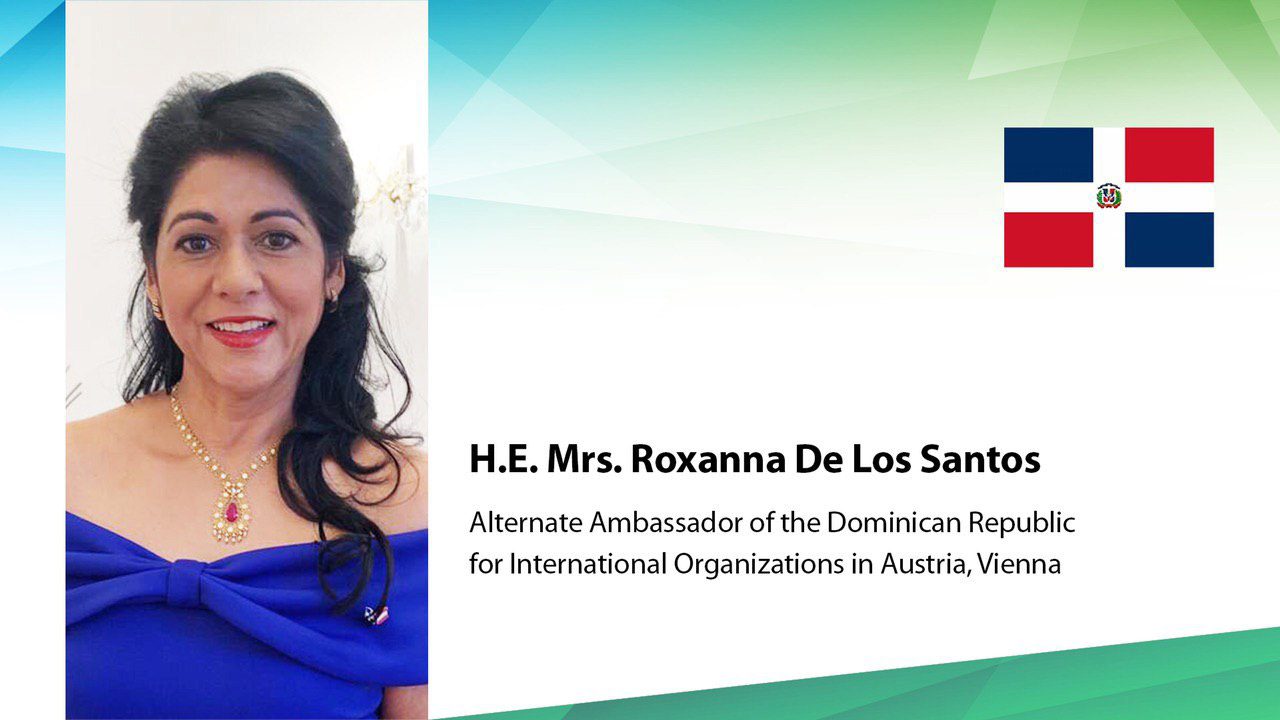 "On behalf of the government of the Dominican Republic and on my own, I am grateful for the honor of addressing all the citizens of the world who share the vision and hope of the United Nations," said H.E. Ms. Roxanna De los Santos de Piantini, Alternate Ambassador of the Dominican Republic to the UN (Vienna), adding that "Every day small individual actions contribute their bit to build a more equitable world. We must make these small actions and their protagonists visible, expanding their networks of action. The United Nations has the power to achieve this through its programs."
"Education, education, education! If we want peace, we must teach peace," said Dr. Mary Shuttleworth, president of Youth for Human Rights International in the US, adding that "Peace is about actions. Sometimes tiny actions. A smile. A kind word. A kind deed. Peace is built one step at a time." She stressed that "Let's brighten the world by teaching, learning and promoting the United Nations Universal Declaration of Human Rights to build sustainable security and peace together."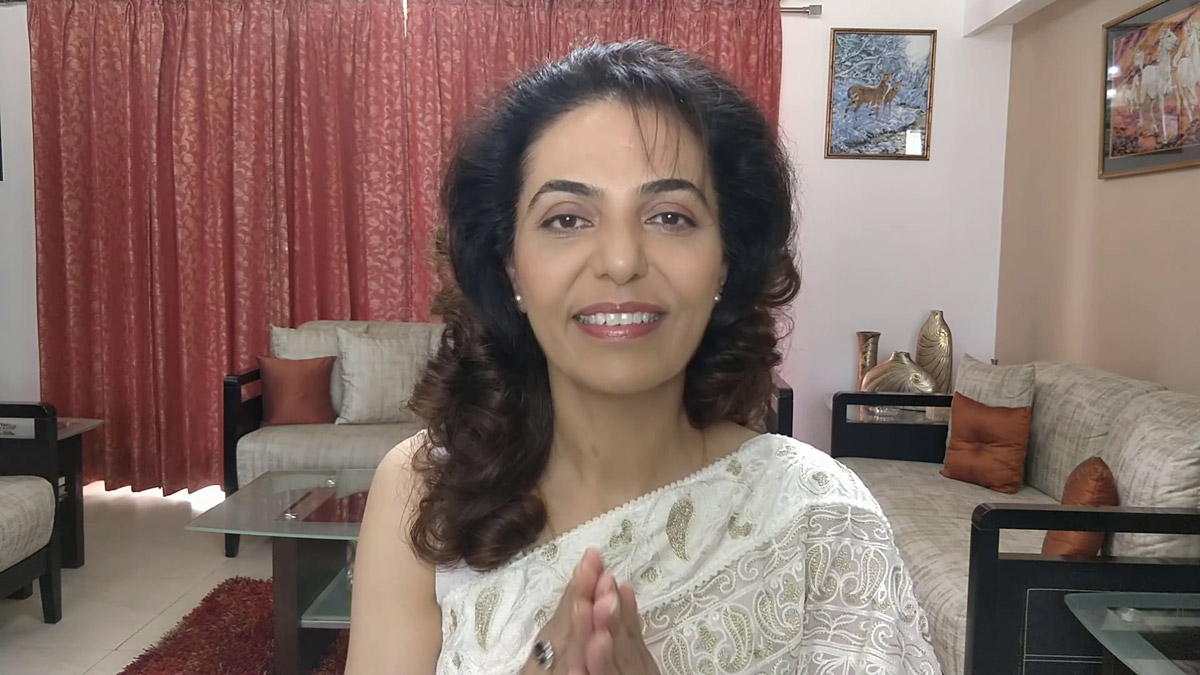 Dr. Jagdish Gandhi, co-founder of the world's largest school, City Montessori School, in India, stated that "Today, the urgency for all countries to come together, to fulfil the promise of the United Nations, has rarely been greater." Prof. Rene Wadlow, president of the Association of World Citizens, said that "On this UN Day, we pledge our energy and our skills to this effort to build bridges of understanding among cultures, religions, and political opinions."
Dr. Kuiljeit Uppaal, an image scientist, impact strategist, and recipient of the prestigious Karmaveer Chakra Award, sponsored by the UN, said, "We need to create an evolved global society where our hearts beat for each other! It is time to align the personal fabric of our existence, our conscience and our wisdom with the larger framework of global goodness and endeavour, to achieve a higher quality of life for all people and create a beautiful world of peace and happiness."
Other visionary leaders also shared their video messages in observance of the day, including Defense Adviser Brigadier General Md Sadequzzaman, ndc, afwc, psc to the Permanent Mission of Bangladesh to the UN; Abdulmajid Abubakar, founder of Advocates for Green Environment in Nigeria; Vandana Chaudhary, co-founder of Rolling Nature & Initiative Earth in India; Gabriel Ordaz Olais, founder of La Gaceta De Paz in Mexico; Gagandeep Singh, founder of GDS Consulting in India; Carl McKay, director of Peace River/Westlock Liberal Association in Canada; Nina Goncharova, president of Siberian Center for Eurasian Projects in Russia; Titta Kote, CEO and founder of the Happy Ambassador Concept in Finland; Dr. Ramesh Kumar, head and associate professor of political science at S.D. College in India; Peter Jam, a Lebanese-Armenian peacebuilding artist; Naaz Farhana, founder president of Dhaka Women Chamber of Commerce and Industry in Bangladesh; Dr. Abdelmadjid Amrani, professor of political philosophy at University of Batna in Algeria; and Aditi Banerjee from SaveOurWorld.
If you miss the live stream, you can watch the video recording here: https://www.youtube.com/watch?v=czEgY8Nad9Q&t=1229s.