World Leader Summit of Love and Peace Takes Place in India
Cultivating World Citizens with Love and Conscience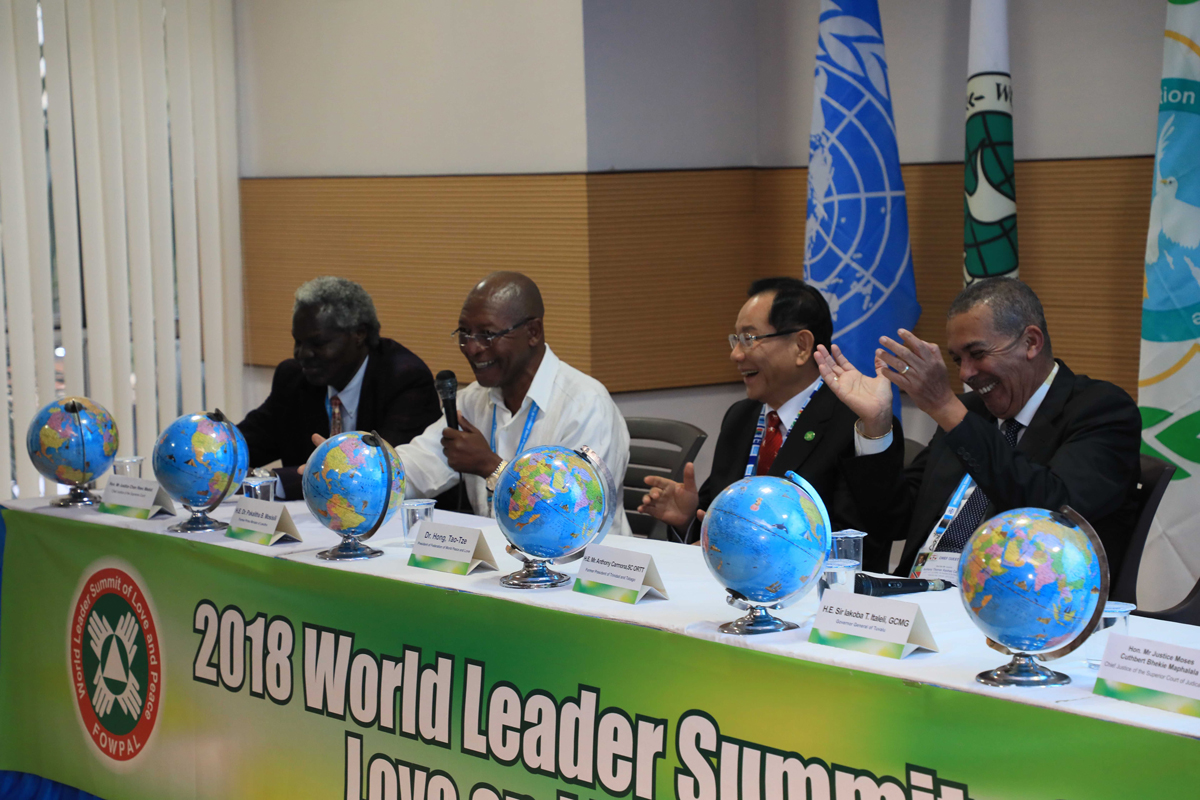 (By Connie Hsu, Lucknow, India) The 19th International Conference of Chief Justices of the World was held on Nov. 14-20, 2018 in Lucknow, India. Over 370 honored guests from 71 nations attended the event, including heads of state, chief justices, justices, and other visionary leaders in various fields. On Nov. 18, the Federation of World Peace and Love (FOWPAL) and the organizer of the Conference, City Montessori School (CMS), co-hosted the "World Leader Summit of Love and Peace," where H.E. Mr. Anthony Thomas Aquinas Carmona, former President of Trinidad and Tobago; H.E. Dr. Pakalitha B. Mosisili, former Prime Minister of Lesotho; and Hon. Chief Justice Chan Reech Madut of South Sudan attended the event and delivered speeches.
Dr. Hong, Tao-Tze, President of FOWPAL, welcomed all participants and said that "it is particularly meaningful that we co-host the 'World Leader Summit of Love and Peace' with Dr. Gandhi today. Through exchanging experiences with heads of state and chief justices and learning from one another, I believe that we will be able to cultivate visionary younger generations with love and conscience and establish a powerful global governance framework to solve global problems and promote global sustainability."   Under the theme of "Cultivating World Citizens and Promoting the Culture of Peace with Love and Conscience," Dr. Hong emphasized, "Conscience is an important compass inside our hearts. We were born with conscience, but it is easily covered with dust from this world, obscuring its guidance. The purpose of education is to keep our conscience pure and clear and to build our moral character so that we can tell right from wrong, good from bad, and true from false. When all people listen to their conscience, a culture of conscience will take shape. Growing up in such a culture, people will collectively create a positive learning environment. Our children, educated in such an environment, will pass on the good culture from generation to generation. Consequently, kindness and goodness will prevail forever in this world, benefiting countless generations to come." He also reiterated what he shared in his speech at the United Nations headquarters during the UN General Assembly in October 2018: "The earth will eventually respond to mankind's collective thoughts and actions. Catastrophes and acts of God are the result of our greed, hatred, arrogance, and mistrust." He then urged all people to take small steps to change themselves so as to jointly make a giant leap as world citizens, which will foster humanity's improvements and well-being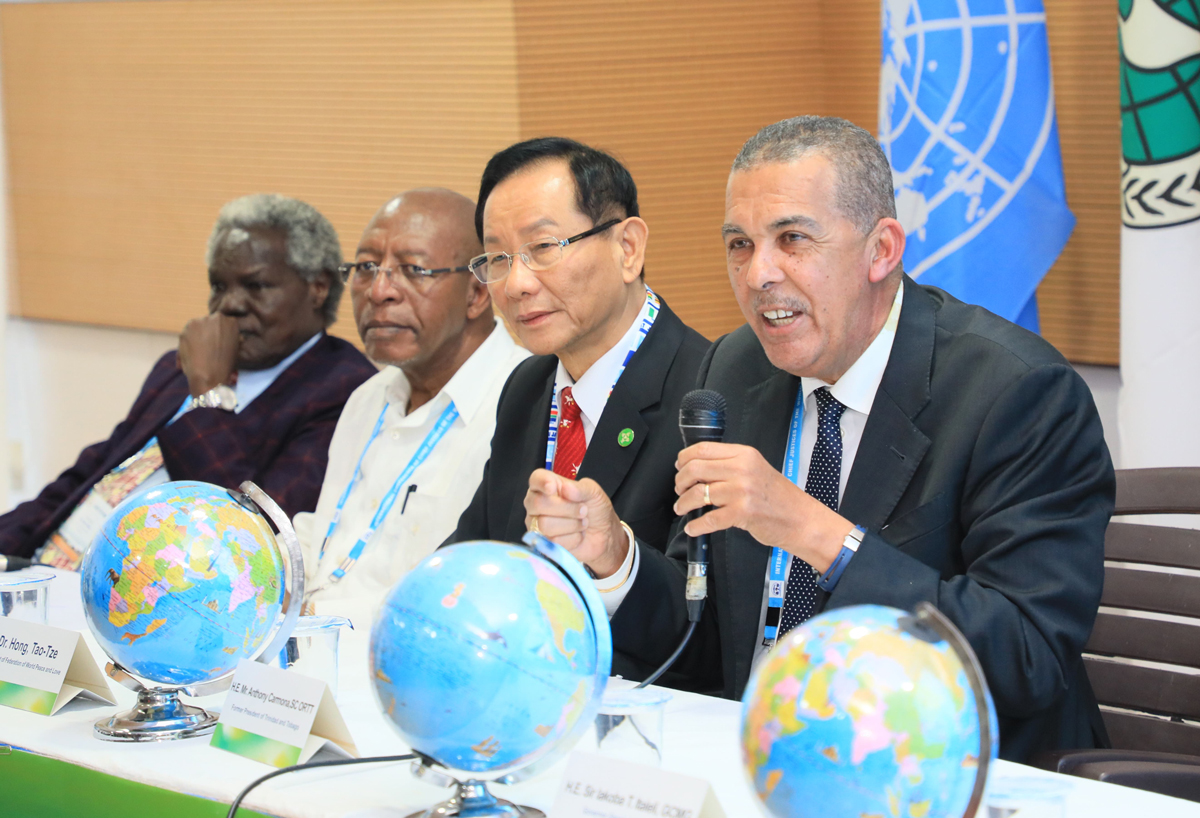 H.E. Mr. Anthony Thomas Aquinas Carmona, former President of Trinidad and Tobago, has worked in the criminal courts all his life and has served as the deputy director of public prosecutor in Trinidad and Tobago as well as a judge of the International Criminal Court. "In my professional life, essentially, I have been dealing with this social dysfunction or phenomenon you call crime," shared Justice Anthony Thomas Aquinas Carmona, "I saw the atrocities of genocide, having to prosecute camp commanders, politicians, and generals for genocide, crimes against humanity, war crimes. And this is why peace has become such a pivotal aspect in my life personally and in my association and organization." Justice Anthony Thomas Aquinas Carmona emphasized the importance of intervention in helping young people in the criminal justice system, by saying, "We have to encourage restorative justice. We have to engage mediation, and this is why I have been pushing for mediation course in the schools and classes." He encouraged everyone to be "a light in somebody's darkness" and nurture that inner "light of positivity and goodness."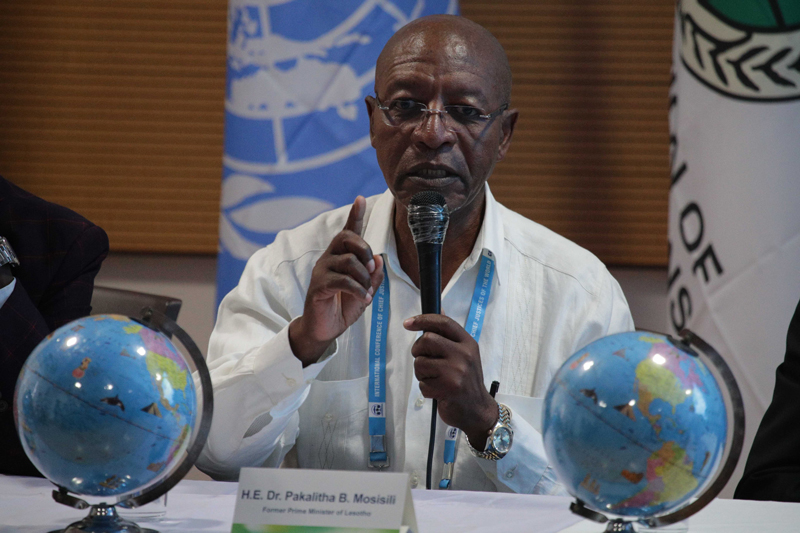 Lesotho is a small kingdom that is completely landlocked by South Africa. H.E. Dr. Pakalitha B. Mosisili, former Prime Minister of Lesotho, emphasized that his country has sought British protection but is not a British colony. "As a people, we have never been conquered by anybody. Even the British did not conquer us," added Dr. Mosisili. "Our founder king was a great lover of peace. He called peace his own sister. And in the African culture, your sister is very important. That is the one person you can fight to death to protect," explained Dr. Mosisili. He also pointed out, "There cannot be any development without peace. So, if we want to improve people's lives we need to inculcate a culture of peace. So, it is absolutely important." He commended Dr. Hong and FOWPAL for working for peace in the world. Dr. Mosisili stated that he was trained as a teacher. After being wrongfully jailed, he joined politics because he didn't want his fellow countrymen to go through the same ordeal. He also encouraged everyone by quoting the late UN Secretary-General Kofi Annan's words: " you are never too young to lead and never too old to learn." An attendee said that he was especially inspired by Dr. Mosisili's speech because Dr. Mosisili is 73 years old and is still very passionate about making the world a better place.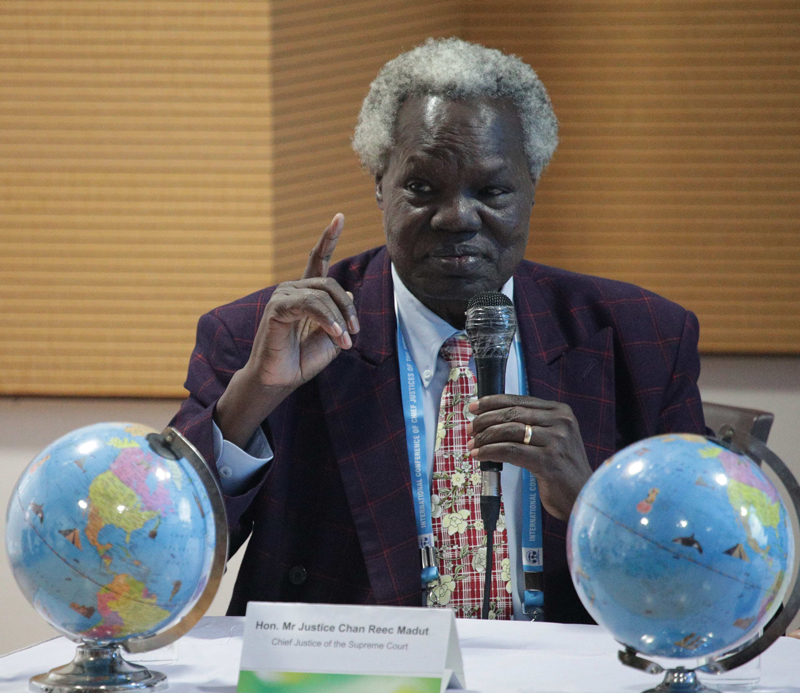 South Sudan became independent in 2011 and is the youngest nation in the world. After gaining independence, the country has not been peaceful. A civil war erupted, which has caused millions to become displaced. Hon. Chief Justice Chan Reech Madut of South Sudan emphasized the importance of love and peace and said that he loves FOWPAL's intention to promote love and peace. He sha  red a quote from the Bible: "But if anyone slaps you on the right cheek, turn to him the other also," stressing that "forgiveness is the only solution for the problems that we are facing." As a Dinka, he stated that the Dinka "have respect not only for human rights. I think I would call it respect for life. Even animals, we respect their life." He also shared that the Dinka have great respect for women because they are known to be honest and sincere. Regarding the conflict between the Dinka and Nuer, although it's not easy to resolve it overnight, the President of South Sudan has initiated a national dialogue for forgiveness, leading to the signing of the power-sharing agreement between the warring parties to end the five-year civil war.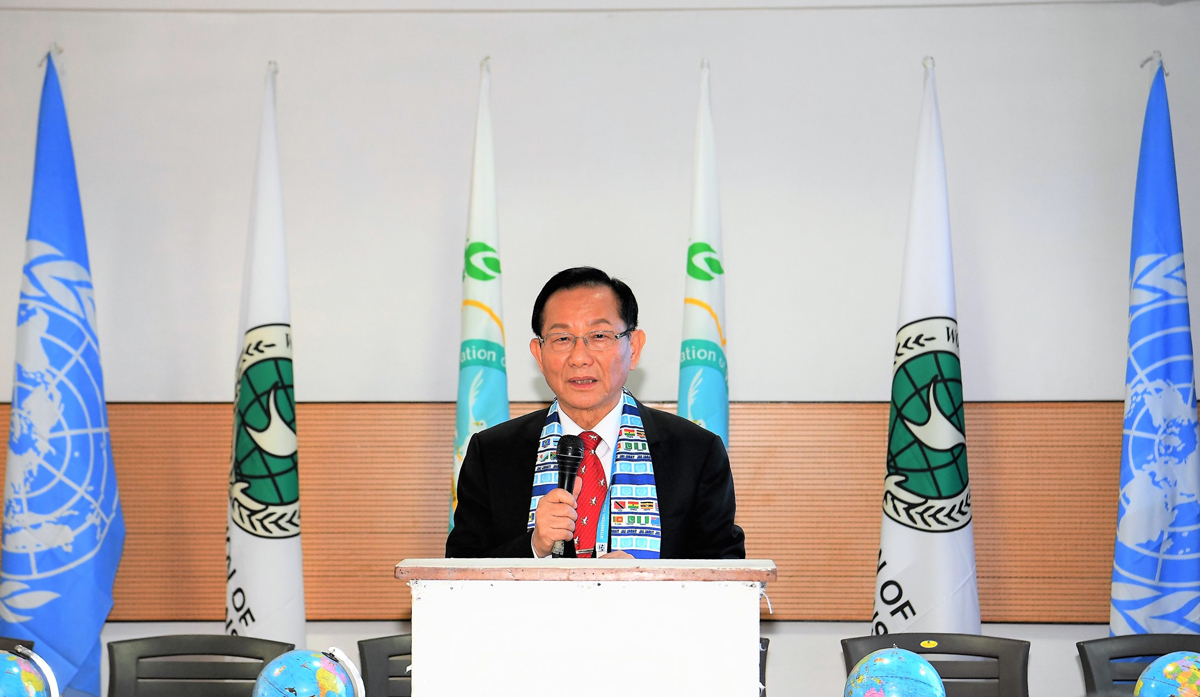 Dr. Hong, Tao-Tze, President of FOWPAL, presented to each of the speakers a FOWPAL's "Key to the Heart" and praised each of them for being a key man in the promotion of world peace and love as well as global partnerships. FOWPAL's youth volunteers presented energetic singing and dancing. Through a song called "The Angel in Your Heart," they conveyed humanity's aspirations for peace. Their performance transcended the barriers of nationality, race, and age, bringing people closer together. The volunteers also led the honored guests as well as the teachers and students of City Montessori School (CMS) to hold hands together and shout, "We can change the world!" Throughout 2018, FOWPAL encouraged all people to start with changing themselves to make the world a better place and jointly create a culture of peace.
Ugandan High Commissioner to India, Ms. Grace Akello stated that she thought this was a great event and that she was very happy to attend it. She said that, regardless of age, people from around the world can jointly promote love and peace.