Spreading a Culture of Happiness in Serbia- Illuminating the Light of Love, Peace, and Hope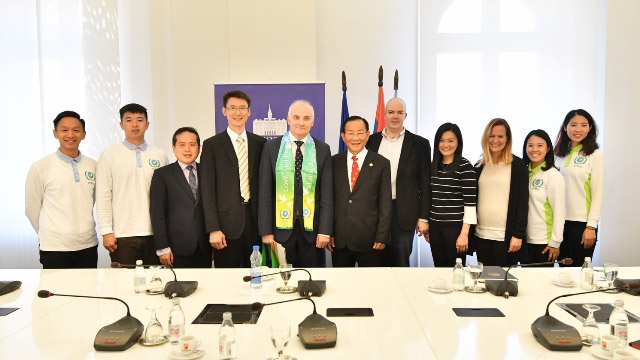 By Catherine Liu, Serbia)
Serbia is located on Southeast Europe's Balkan Peninsula. Since hundreds of years ago, this land had been ravaged by wars among European empires and powers. Now the nation has started a new chapter. Its second largest city Novi Sad has been selected as the European Youth Capital for 2019 and the European Capital of Culture for 2021. On Oct. 23, 2018, Dr. Hong, Tao-Tze, President of the Federation of World Peace and Love (FOWPAL), led FOWPAL delegates to visit the City Hall of Novi Sad and Serbia's Ministry of Culture and Information to share their experiences of promoting love and peace. Serbia is the 90th nation that FOWPAL visited. In October, Serbia celebrates the anniversary of its liberation from Nazi German occupation; FOWPAL's visit to the nation at this time of the year was especially meaningful.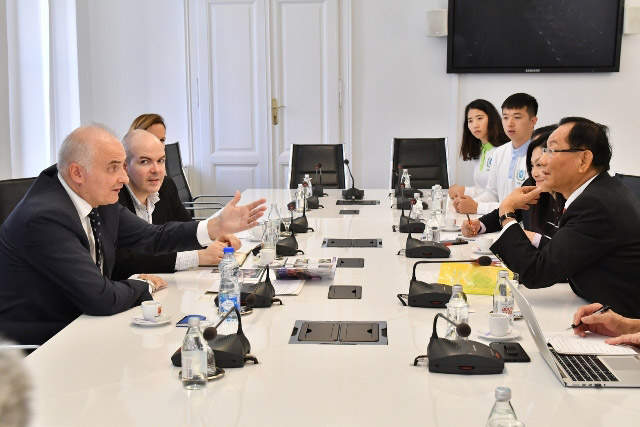 This year marks the 270th anniversary of the establishment of the City of Novi Sad. One of the most important centers of culture and higher education of the nation, the city is known as the "Athens of Serbia." On behalf of Mayor Miloš Vučević of Novi Sad, Mr. Aleksandar Petrovic, Assistant to the Mayor for International Cooperation and Social Affairs, received the FOWPAL delegation.
 
Mr. Aleksandar Petrovic mentioned that Novi Sad has been named the European Youth Capital for 2019 and the European Capital of Culture for 2021. Such recognition represented the city's efforts in promoting culture and the wellbeing of youth. Serbia was devastated by World War I and World War II; the day FOWPAL visited the city happend to be the city's Liberation Day.  
Dr. Hong, Tao-Tze had experienced war firsthand as a boy. He mentioned that his mother would take him to hide in shelters during World War II air raids. He also shared that his Shifu (master) taught him the yin-yang philosophy of the Tai Ji culture when he was 6. Dr. Hong has been promoting the idea of love and peace for 52 years since he was in his early twenties. Over the past few decades, Dr. Hong has frequently exchanged ideas with world leaders and has met with Girma Wolde-Giorgis, the late President of Ethiopia; His Holiness Pope Benedict XVI; the late Secretary-General Kofi Annan; former Secretary-General Ban Ki-moon; and so forth. Additionally, through hosting the ceremonies of ringing the Bell of World Peace and Love, FOWPAL consolidated visionary leaders' wishes for peace. The bell ringers are practitioners of love and peace; their thoughts have significant impacts on the people of the world.
Dr. Hong stressed the importance of culture. He pointed out that economic development is very important because "no money, no peace." He continued by saying that a good economy is built upon an excellent culture and cultural exchanges allow people to learn from different cultures. By integrating other cultures' strengths into our own, we can create a better culture and improve people's lives, said Dr. Hong. 
The FOWPAL delegation also shared FOWPAL's experiences of promoting the culture of peace worldwide. FOWPAL recently hosted the World Leader Summits of Love and Peace and the ceremonies of ringing the Bell of World Peace and Love in Vienna and at the UN headquarters in New York to garner a consensus for love and peace from various nations. Mr. Aleksandar Petrovic responded positively to FOWPAL's idea of love and peace and welcomed the delegation to visit the city next year.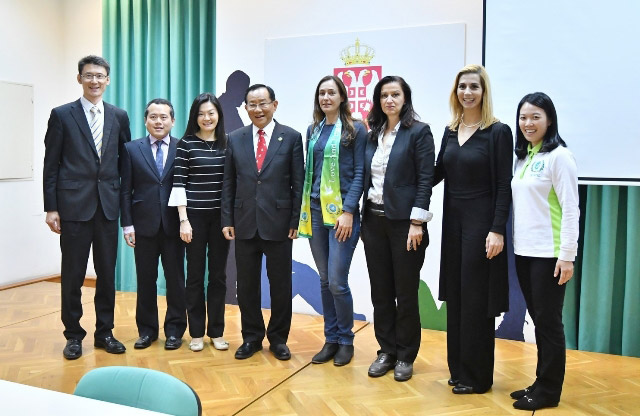 The FOWPAL delegation then went on to visit the Ministry of Culture and Information in Serbia's capital Belgrade. On behalf of H.E. Mr. Vladan Vukosavljevic, Minister of Culture and Media, Ms. Tatjana Bojovic, Counsellor of International Cooperation, European Integration and Projects Department, and Ms. Danica Stolica, Advisor of Department for Development of Digital Research Infrastructure in the Field of Culture and Arts, received the FOWPAL delegates and had an enjoyable dialogue with them.
The FOWPAL delegation shared that over the years Dr. Hong has led FOWPAL delegates to travel around the world and invite world leaders as well as leaders from all fields to ring the Bell of World Peace and Love and make wishes for peace. To date, 328 visionary leaders in 101 nations have rung the Bell, including heads of state and government as well as seven Nobel Peace Prize laureates. Dr. Hong extended an invitation to the President of Serbia to ring the Bell in the future.
Ms. Tatjana Bojovic expressed her admiration for Dr. Hong's remarkable achievements in leading the FOWPAL delegation to visit 90 nations to conduct cultural exchanges for love and peace. She pointed out that furthering cultural exchanges requires financial resources and good interpersonal relationships and that her department had encountered challenges in this regard. She was very pleased that FOWPAL visited the city to share its experiences in cultural exchanges for love and peace.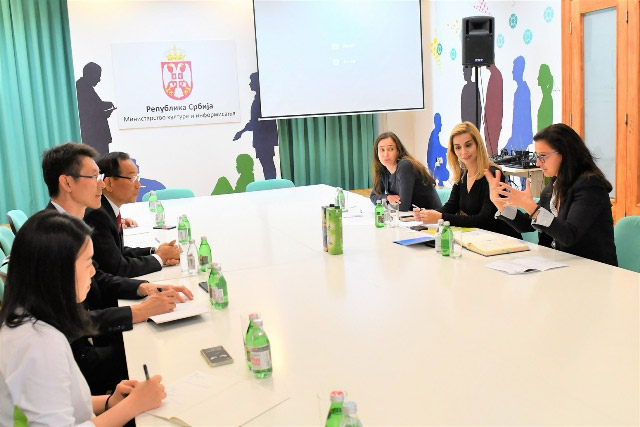 Dr. Hong pointed out that conducting cultural exchanges is very important because it is the best way to enhance mutual understanding. Dr. Hong mentioned that bringing happiness to others by singing a song is a way to conduct cultural exchanges and that he led the FOWPAL delegation to participate in the Sydney 2000 Summer Olympics, not to compete but to bring people happiness through its cultural performances.
 
Ms. Tatjana Bojovic was very interested in the subject of happiness. She said that some people are depressed because they encounter difficulties at home or in other aspects of life. She asked Dr. Hong the secret to staying cheerful. Dr. Hong emphasized that conscience enables us to have love, peace, and wisdom. Some people pay attention only to basic needs, such as sleep, work, and food, and some even try to attain inner peace through taking medications. Dr. Hong shared that the secret to inner peace lies in concentrating on one's breathing; doing so will make one calm and think clearly about how to improve oneself to have a better future. He reiterated the importance of happiness in attaining peace: If you think happy thoughts, you will be happy every day; everyone that interacts with you will become happy as a result. Happiness is very important to peace, added Dr. Hong.
 
The Balkan Peninsula was known as the powder keg of Europe, and the people on the peninsula have suffered physically and mentally from the horrors of war. The City of Belgrade, established over 1600 years ago, had experienced over 100 conflicts and wars and had been reduced to rubble for dozens of times. Each generation of Serbians has experienced at least one war. The wars have traumatized many Serbians. The visit of the FOWPAL delegation has brought the light of love, peace, and hope to the land.